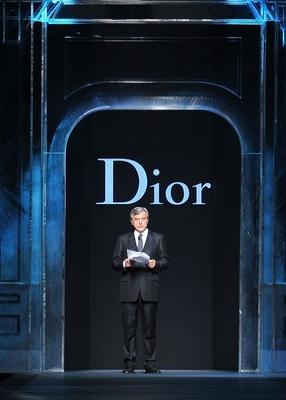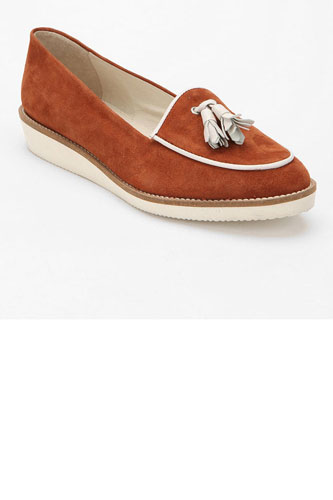 Before today's
Christian Dior
show in Paris, chief executive
Sidney Toledano
took to the runway and
said
re: the
John Galliano
fiasco: "It has been deeply painful to see the Dior name associated with the disgraceful statements attributed to its designer, however brilliant he may be. What happened last week has been a terrible and wrenching ordeal for us all. So now, more than ever, we must publicly re-commit to the values of the House of Dior." [WWD]
Cathy Horyn
reports
that at the end of the show, "after the finale parade of models, the lights remained dimmed for a few moments, when in the past Mr. Galliano made his dramatic entrance" and that "It was moving, a simple and sincere gesture, as the white-coated members of the Dior ateliers came out together from the backstage and stood together. The audience went to its feet." [NYT]
Meanwhile,
Elle
's
Joe Zee
spotted
someone outside the show with a sign that read "The King is gone."
Riccardo Tisci
,
Haider Ackerman
and
Hedi Slimane
are said
to be the three front-runners in line to take over Galliano's vacated post. [Styleite]
Speaking of
Givenchy
designer
Tisci
, he
has collaborated
with
Visionaire
on its 60th issue, the theme of which is religion. [Style File]
Designer
Richard Chai
helped set up the racks and unpack boxes at his first ever
sample sale
at the
SoHo Grand
. Duds are 70 to 90 percent off, and it runs through Sunday. [Racked]
Maybe it's because we've been deeply engrossed in spinster novelist
Barbara Pym
's masterpiece
Excellent Women
, but
this round-up
of stylish yet sensible shoes really speaks to us right now. [Refinery 29]
At yesterday's
Manish Arora
show in Paris, a magician performed several tricks on the runway.
Here
's a pic of model
Charlotte Free
in a box. [The Cut]
Model
Lydia Hearst
is suing
Gotham
magazine for using her image without her consent as well as fabricated interview responses in an advertorial for Xante alcohol. [Coco Perez]