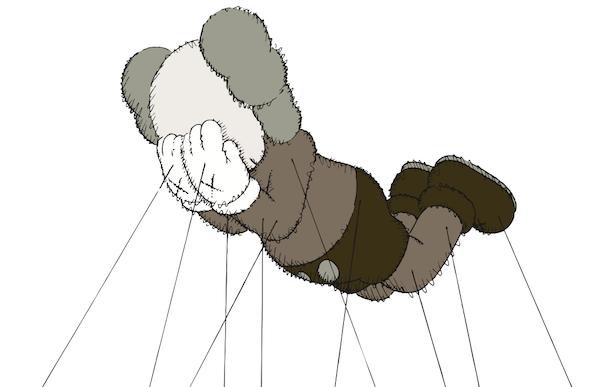 In an age where cultural figures are supposed to be somewhat larger than life, and when bad boys (and girls) still get props for their antics, Brian Kaws is perhaps the most unlikely of art stars imaginable. Neither lacking in ambition or vision, Kaws remains uncannily modest and reserved in a way that borders on shy. But when asked about the bizarre discontinuity between the almost hermit-like workaholic and the renown by which just about anything he does sets social media a-twitter, Kaws is not just being coy when he says, "I know the work is getting out there beyond my studio and that I have a lot of opportunities at the moment, but I don't really think about it a lot." With Kaws, one has the sense that he eschews such matters mostly because they would be a distraction from what he really cares about, which of course is his work.
Putting aside all the obvious adjectives regarding his unique talent, skills and determination -- Kaws suffers enough hype that his pals at PAPER hardly need to pile any more on -- perhaps the best explanation for his cult-like status today has a lot more to do with timing. The popularity by which Brian Kaws' art -- the former graffiti artist is known for his subversive riffs on classic cartoon characters -- is so widely received that it has come to represent an entire paradigmatic shift in our collective understanding of what art can be.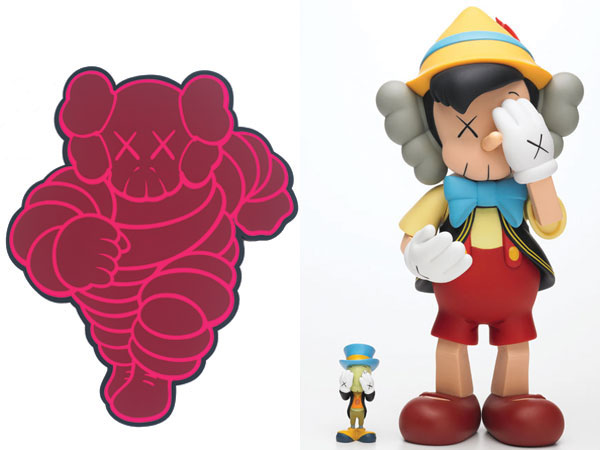 Clockwise from left: "Chum (KCA3), 2012"; "Jiminy-Cricket and Pinocchio (designed by KAWS)" ORIGINALFAKE, 2010; Kanye West
808s & Heartbreak
, special edition  LP, Roc-a-fella records, 2008.
As an artist Kaws may not think much about his success, but when pressed to explain it he notes that the timing of his entry into the expansive marketplace has been key. "I think the response to my work has a lot to do with when I came up and all the different new markets that were developing then," he says. That aspect of fortuitous synchronicity is as true of the emergent product cultures he tapped into like vinyl figure toys, streetwear, urban youth marketing, artist-branded sneakers and (ultimately) the aesthetic redesign of just about every consumer object imaginable (he even designed light bulbs for the Standard Hotel), as it is for the explosion of social media where his visual language and his truly savvy way of adapting it to any vehicle of expression has spread like a global meme.
From his start working with the likes of Supreme and developing collaborations with innovative Japanese companies like Bathing Ape, Undercover and Bounty Hunter, Kaws continues to explore crossover projects with the hippest signifiers of new while rebranding some very established names. In addition to clients like Nike, Vans, Hennessy and Ikepod, Kaws' art is represented by blue-chip galleries like Honor Fraser in Los Angeles and Emmanuel Perrotin in Paris. Oh, and he's also doing a balloon this year for a little parade that Macy's does every Thanksgiving. As his classic figure, "Companion," strolls down Main Street USA this fall, whether he thinks about it or not, Kaws will certainly be as famous as any living artist.
Top image: Rendering of "Companion" balloon for the Macy's Day Parade, 2012.