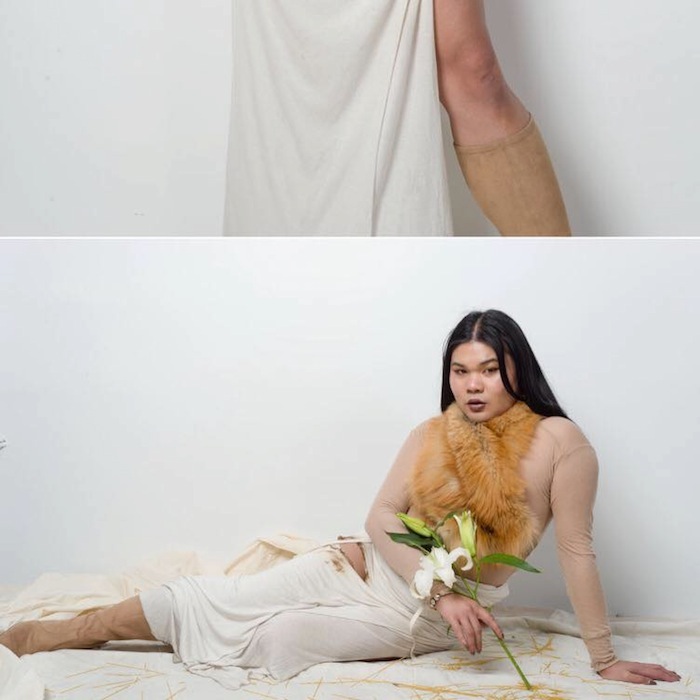 In our new column, "The Coolest Person In the Room," we're asking our favorite nightlife pros (hosts, DJs, door people, promoters, bar/club owners, club kids, bartenders, socialites) to tell us about who they think is the one party person whose look is always on point, whose energy is contagious, and whose scene is worth checking out -- basically, that person at the club who they've got their eye on and think we all should know. In each installment, the previous "coolest person in the room" will pass the baton and nominate someone else. 
Last week we featured Jake Levy and she's been kind enough to nominate our next 'Coolest Person in the Room,' DeSe.
Who is DeSe?
DeSe is one of NYC's best DJs, hosts, and an all around fashion star. She can be seen playing mixes or hosting at top parties like Holy Mountain, Westgay, and Club Shade. You can always spot DeSe quite easily -- her long, Kardashian-esque hair, perfectly beat face and regal style usually give her away pretty easily. And if you can't make it to the club, follow her on
Instagram
.
Why do you love DeSe? 
She is consistently reinventing the rules and aesthetic of #GLAM, always teaching her audience that no matter who you are or where you are, you can always discover some #GLAM in you. She makes everyone feel beautiful! 
What makes her unique to nightlife? 
What other DJ in NYC is playing Bollywood mixes of "Promiscuous," or female-only covers of trap songs, or turns up to the club in BURNT HELMUT LANG (and thus inventing #scorched #glam)? Nobody else but DeSe. She is the queen! And while royalty isn't new, her reign is. 
When was the first time you met DeSe? 
We met like a year ago in California, hanging out with some friends on Venice Beach, but the first time we really got to hang out was a few months ago. We had run into each other at Beacon's Closet, and she helped me pick out the most amazing silk gown. We met up later that night, bought a bottle of tequila, and hopped to a bunch of different art parties. Obviously it was super fun. 
What is your favorite memory of DeSe? 
One time our friend Chicken let DeSe [make-up] his face before a party. There is an amazing before and after of it on Instagram. He looked like a chimney sweep. It was very Mary Poppins.