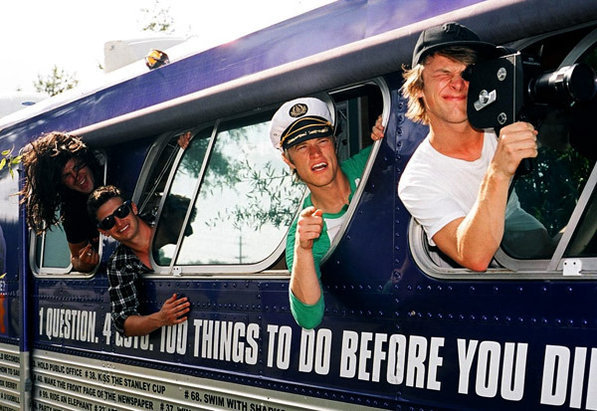 It pains many of us to accept that
Jersey Shore
is reaching its season finale this week. But change is good, and there's a new show coming to MTV that's worthy of a fist pump. The
Buried Life
, starring four twenty-something friends from Victoria, Canada. The unscripted (how refreshing!) reality show follows the ambitious foursome -- whose goals, though occasionally goofy, reach way beyond tanning competitions at the shore -- as they travel the country to complete their list of 100 things they'd like to do before they die. With each goal they cross off the list, they also help a stranger cross off something meaningful on their list. Think of it as a do-gooding
Jackass
. I met the show's awesome
Dave Lingwood
and
Jonnie Penn
in 2009 at the Beatrice Inn (which already garners them cool points) and recall them mentioning their little road trip documentary. A year later, the
Buried Life
is on the front page of the
New York Times,
who described the show as "MTV for the era of Obama." (Shooting hoops with Mr. President is on the boys' list -- stay tuned to see if its gets crossed off.) The show premieres tonight on MTV at 10 p.m., and Penn and Lingwood recently chatted with PAPERMAG about traveling the country in a giant purple bus, getting a stern talking to from
Hugh Hefner
, their plans to meet
Fidel Castro
.
Your show is three years in the making and finally debuts tonight. How does it feel that MTV picked it up?
Dave Lingwood
: It was just a project when we started this. We weren't even trying to make a TV show. We were at a place in our lives, searching to do something and give ourself a bit of purpose. We started it up, but it wasn't until a year ago that MTV approached us to do a show for them. And it's number 53 on the list--make a TV show. Just crossing another item off. And we're stoked MTV has given us so much control over it and let us do our thing.
There's a huge publicity push behind this show--I just saw a billboard with your faces on it last night. What do you hope the show accomplishes?


Jonnie Penn
: Our goal from day one was to make something that our friends would like, so we worked hard on it. We grew up watching skateboard movies and snowboard movies, and the style of the show definitely has some influence that way. Music is really important to us as well. We worked really hard to get music in the show that isn't in a lot of television. Even like
Justice
,
Chromeo
,
Miike Snow
,
Flaming Lips
,
Coldplay
-- lots of different types of music that people like. As for like a statement or mission,  I don't know. I think we always just wanted to make something our friends will watch and take away what they want. We don't want to say 'You can do anything.' We're not like, 'Carpe diem' -- we don't live by that philosophy. Just 'What do you want to do before you die?' If you ask people that question, it sort of sparks the dialogue.


The Jersey Shore finale is this week. Do you think you'll find your own audience? Is America tired of obviously scripted shows about spoiled rich girls and hot messes?
JP
: I think people will be pretty surprised by the show. Just because it's got a message, doesn't mean it's not entertaining. The things we go out to do are innately gonna result in some pretty crazy shit. So we have some really good surprises if you watch the show. I hope people like it , but one thing I can say [is that] we've been doing this for four years and we've seen the responses so far, We know what people respond to and we try to stay true to that as we transition it to TV. And keeping it real -- the fake shit has its place, but people want something with a little more substance. But also, MTV did this study which kind of interested us and we talk about it a lot. Generation Y wants to look up to their grandparents more than their parents, which says something about what's going on right now. Young people are really ambitious, they want something. They don't know what it is but they know their grandparents got it. If ambition alone is what people wanna talk about it, then we have plenty to say. 


DL: We truly made this show with the mantra 'What would your friends watch?' This is for our buddies, our boys back home. The first episode is us breaking into the Playboy mansion. We had a fake Cristiano Ronaldo, and two Oompa Loompas being smuggled into the back entrance of the Playboy mansion. After that episode was done, we had to show Playboy.  And Playboy said 'There's absolutely no way you can air that.' Even though this one was absolutely unbelievable. So we sent a copy of the episode and a hand written letter to Hugh Hefner and he personally watched it and gave it the okay. But he sent a message and his exact words were 'Tell those boys I'm not too pleased with them.' We got scolded by Hugh Hefner.


MTV can really catapult you to instant fame like my girl Snooki. How are you going to handle the inevitable fame?

DL: The truth of the matter is, I don't think that anyone can properly prepare themself for something like that. All four of us are kind of naive about it. But at the end of the day, it really comes back to the message. We wanna ask as many people what they want to do before they die and get them thinking. It's not about us, it's about the message.


What episode from this season stands out to you the most?

DL: Personally, one of the of most memorable moments for me was episode four. We met a girl who was a refugee from Hurricane Katrina and was sent to Memphis. Her mother was sent to Denver and her mother died from an infection from the water. And she never got a chance to say goodbye and couldn't afford to fly herself to the grave. So we went to a ribs restaurant and worked for a day and raised enough money to fly myself, Jonnie and the girl to Denver to  see her mom's grave. It was the most profound moment of the tour.


And, also, staying in a cake for six years trying to get into the Playboy mansion. We try to hit both sides of the spectrum.

Tell us about living on the purple bus. Did you guys wanna kill each other?


DL: We paid for it by fundraising and getting sponsorships. We made four bunks from a steel scrap yard with steel and ply wood. It was surprisingly comfortable, though. The four of us know each other pretty well from doing this project for four years. We know when to give each other space. Of course we get into fights. It's inevitable. We know when to back off and whatever. 
Was there anything on your list that totally failed?
DL
:That's the thing with this show -- we don't get help from MTV at all. It's just four regular guys trying to accomplish this list. I can't tell you which ones [failed], but no, we don't always succeed on our list. And they're probably not the ones you think. 


Tell us about the name of the show.

DL: It comes from a Matthew Arnold poem written 150 years ago and Jonnie read it in an English class. There's a verse in it that says things bury you and you lose sight of what you want to do. It's so ridiculous. Like, 150 years ago, some guy in his fifties was feeling the way we do in our twenties. It's a global thing, it's timeless. Some people say it's morbid, but the one verse in the poem really spoke to us and how we were feeling. 


What are you going to do when it airs?

DL: We think we might just lay low and drink some 40s. We're gonna take it easy. It's been a long road, and we're actually executive producers so we've seen the episode like a thousand times. We're just really excited to get the show to the air and get the message out there, to ask people what they want to do before they die and get them thinking about it. 


You potentially could have a ton of seasons since you still have quite a bit on your list to accomplish. What are some of the other biggies on the list?
 
DL: Smoke a cigar with Castro, so we want to go to Cuba. We also want get in a boxing match in Mexico.  I hope people like it, so we can keep on rolling.