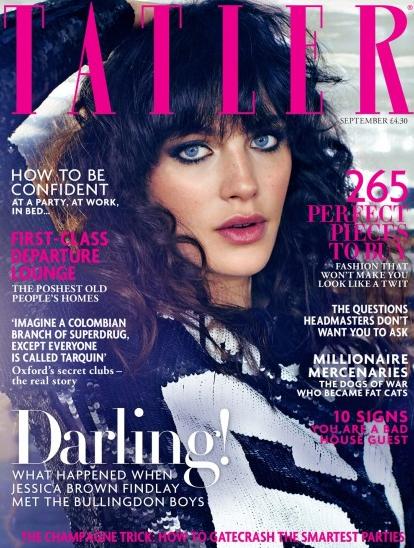 Most Questionable Styling Job of the Week:
Whoever styled
Downton Abbey
's Jessica Brown Findlay for the cover of
Tatle
r.
The Fug Girls said it best
: Lady Sybil looks like Ashlee Simpson!!
-- Abby Schreiber
Most Earnest Use of the Name "Sarah":
Max, who says (while falling out of his kayak), "SARAH, IT's TOO DEEP."
-- Justin MoranMost "Ugh" Performance Art Piece:
"Save the Date"
by Mischa Badasyan. The 26-year-old performance artist announced that he'd be having sex with a different person every day for an entire year to provoke questions about today's hook-up culture. 365 people? Sounds exhausting.
-- J.M.
Best Way to Pick Up a Microphone:
Like FKA Twigs at her recent show at Webster Hall. In fact, this is how we pick up everything. When we drop a bar of soap in the shower, we immediately do this dance -- no audience needed.
-- J.M.


Best Mr. Mickey Moment of the Week:
His appearance on Noah's Arc,
a web show
hosted by editor and Friend of Paper, Noah Levy. Watch Mickey reminisce about how he got his start at Paper and talk about some of his favorite covers.
-- AS

Most Exciting Return to Music: Kindness.
After a long two-year break from music, the British singer announced
he'll be releasing a sophomore album
called
Otherness
and gave us a teaser with the Kelela-assisted track, "
World Restart
." It sounds like a b-side theme song for
Full House
or
The Cosby Show
, which in other words, means it's awesome.
-- J.M.
Best Fashion Moment of the Week:
Daphne Guinness' "Evening in Space."
A lotta singers loved space themes
this week, but Guinness singlehandedly blew her competition away. Never compete with a style icon.
-- J.M.Most Cuckoo Crazy Beyoncé-Jay Z Gossip of the Week:
This item about a woman
filing a maternity suit
against the Carters, claiming Blue Ivy is her daughter.
-- A.S.