The Beginning of New L.E.S. Shop End of Century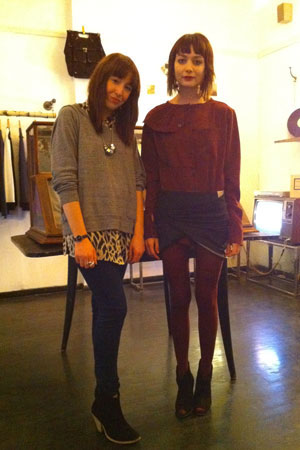 The LES has given us yet another reason to think it's the new shopping mecca of Manhattan. The recently opened End of Century (175 Rivington) owned by the young Greenpoint duo Lara Hodulick and Chantal Chadwick (pictured above, respectively), is stocked with an enchanting and eclectic mix of unassuming treasures made by emerging and independent artists designers like themselves.  Hodulick, (who, full disclosure, was once an intern here at PAPER) and Chadwick have taken their combined experience in the art and the design world and collaborated to make a high-concept boutique/gallery space that's worth writing home about.

The store will showcase a revolving cast of artists and designers, who have created one-of-a-kind accessories for the shop as well as paintings and video installations. Everything -- except the shop's pet fish --  is for sale down to the salvaged hand-plucked pieces of vintage furniture. The biggest draw to this boutique, however, is their mens and womens apparel. The Samantha Pleet, Tar and Feather and Gretchen Mongrain collections are on my holiday wish list for sure.  (Tar and Feather's "Walk of Shame" Collection  with hand-stained wine marks and cigarette burns made me weak in the knees).  Regardless, if you are shopping for a hot new date outfit, accessory, or home decor this little shop has you covered.