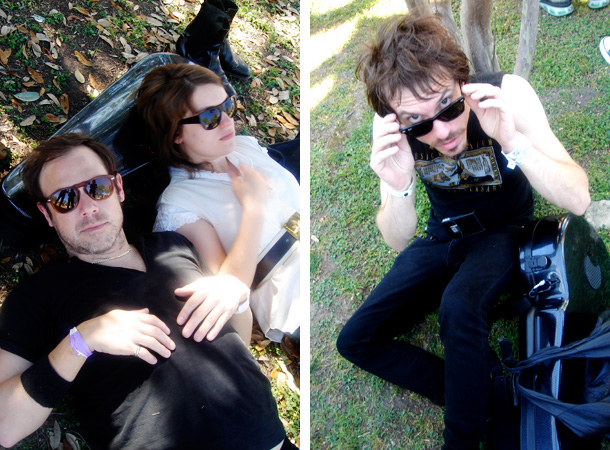 It was all over too soon, and before we knew it. We were scouring downtown Austin at four in the morning for a Whataburger, South by Southwest somewhere in the beer-soaked darkness behind us. Our gizmos failed. Our stomachs ached. We were lost. We settled for a Wendy's, we drove back to the house where we were staying, and tried desperately to stay awake.
Steven fell asleep, of course, with a beer in his hand.
Our final day of SXSW began about 15 hours earlier, as we attempted to navigate the wilderness of daytime parties. It was officially hot, and we took shade where we could find it. Elijah Wood manned the turntables at the first party we were at. Girls sat at long tables doing crafts. We didn't stay long. Next, we walked to the massive Mess With Texas party that happens every year at Waterloo Park. We enjoyed a set by Grand Ole Party, fronted by a superb drummer/singer girl, and lay in the grass, refusing to move or be productive until someone mentioned that Thurston Moore, J. Mascis and She and Him were playing a Garden Party at something called the French Legation Museum.
That sold us, and it was another long walk in the sun. The bands performed in a packed outdoor tent, the power going out at least once during Thurston Moore's set, though it didn't seem to phase him; he just started the song over. Unfortunately, we had to leave before Zooey Deschanel and M. Ward took the stage in order to make the load-in time for our final showcase, (for L.A.'s Indie 103.1) at Cedar Street Courtyard.
It was an outdoor venue sandwiched between two buildings, each with an indoor bar. Playing with us were good friends from L.A. the Deadly Syndrome and Io Echo, along with A Place to Bury Strangers, Neon Neon (who were excellent by the way) and the adorable and talented Tiny Masters of Today. Our friends from Division Day and the Henry Clay People stopped by. Again, it felt like home.
The stage sound was great, the audience was excitable, the venue was perfect. There was a slight cool breeze on our faces while we played. Certain shows have this kind of electricity to them.
Valiantly, we tried to keep the night going at one of the handful of parties holding strong until 6 a.m., but mostly, we were tired, spent, hungry. We can't wait for the next one.