I've been to a lot of nightclubs in my time -- and my time ain't over yet. So I've thought back on all the pomp and revelry and compiled a glittering list of the 13 greatest nightspots I've ever known in this town -- so far. I've gone this path before, but I'm using my increased knowledge and accumulated powers of discernment here, expressing more developed reflections. In any case, this should take away any bad taste left by my 10 Worst Clubs piece not long ago. I hope.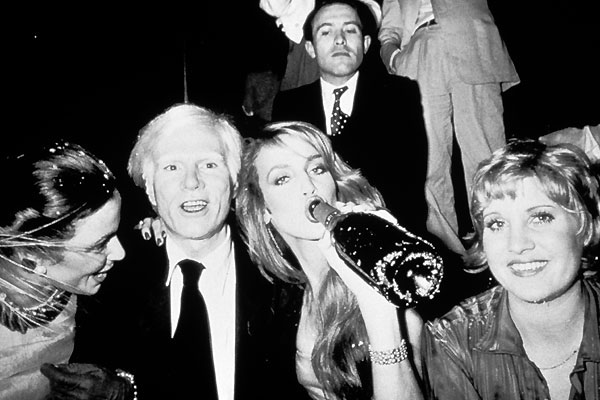 1) Studio 54 (254 W. 54th Street)
Was the ultimate '70s disco really all that? Um, yes. Of course, it helped that I was young and pretty fresh to the scene, so things had an aura of extra excitement about them. But the glitz and glory of this fabled disco was really something to gag for. Swirling up like a mirage in our then-depressed city, it transformed an old TV studio into a multi-level palace for glitter, dancing, and polymorphous cavorting. The snooty doorman would handpick a "salad" of celebs, attractive everymen, and the well connected (with the help of gregarious co-owner Steve Rubell), making for a true mix, everyone pumping the night away till "The Last Dance" signaled closing time. I'm still picking glitter out of my hair.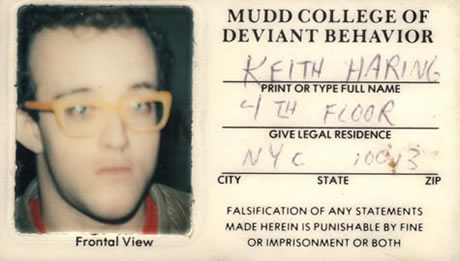 2) Mudd Club (77 White Street)
Opening in NYC courtesy of Steve Mass and other art lovers, this was at the opposite spectrum of 54--a skinny-tie-filled ode to rock and attitude, set in a divey street in the then-barely inhabited Tribeca. Mudd had a thrilling subversion to it, and so did the music (The Pretenders, Blondie) and the guests (a mix of rock stars, avant garde filmmakers, and pretentious dweebs). And that bathroom. Oy!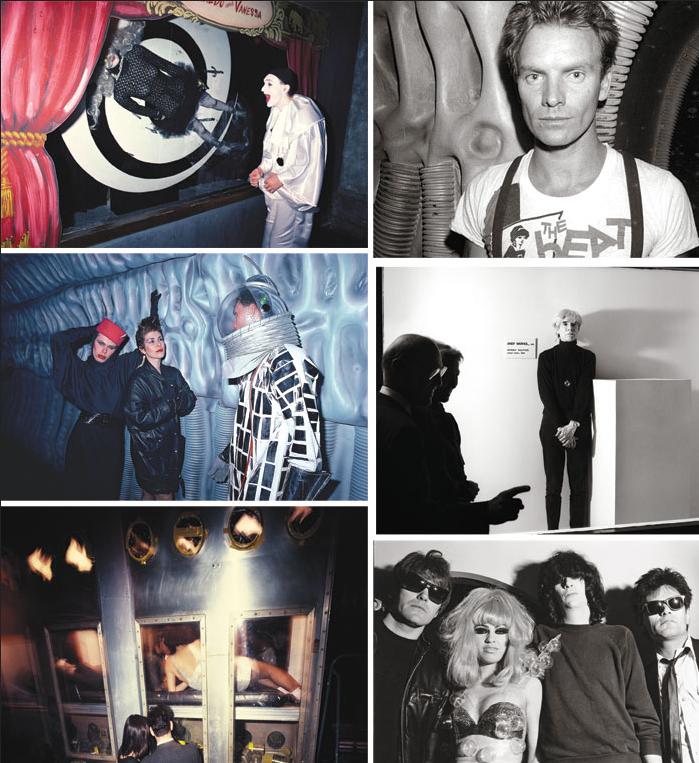 3) Area (157 Hudson Street)
In 1983, this large dance club caught on with the downtown crowd because the owners cared about artistic expression to the point where the club's entire theme changed every five weeks or so from top to bottom, complete with imaginative invites that were works of art unto themselves. The dance floor was hot, but you could always push right past it to the VIP room, where everyone air kissed and photographed each other in a Fellinesque swirl that was playful yet very grown up.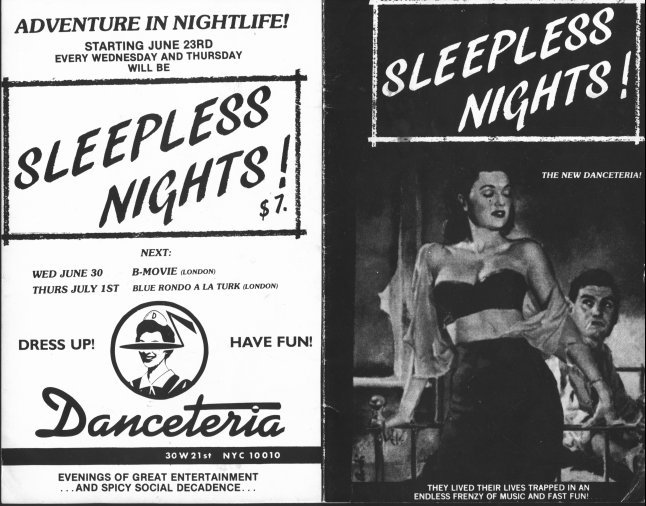 4) Danceteria (30 W. 21 Street)
This rock club had a bunch of locations through the years, but the best was the one at 21st Street, where the four floors were populated by loud people with big hair and a lot to say. The whole thing felt raw, exciting, and ultra desirable.

5) Galaxy 21 (256 W. 23 Street)
As a young gay, I had a great time traipsing up and down the glitzy floors of this club designed for dancing, live music, and romance. We had choices then!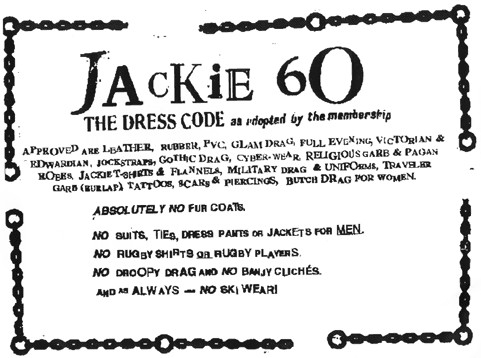 6) Jackie 60
A weekly party that ran in various locations through the '90s (ending up at the Meatpacking District club Mother), this was a frisky soiree with esoteric theatrical events, inspired themes, and brilliant references. Never has a club incorporated both historical awareness and forward-facing technology to the extent that Jackie did. And you didn't want to fuck with that dress code.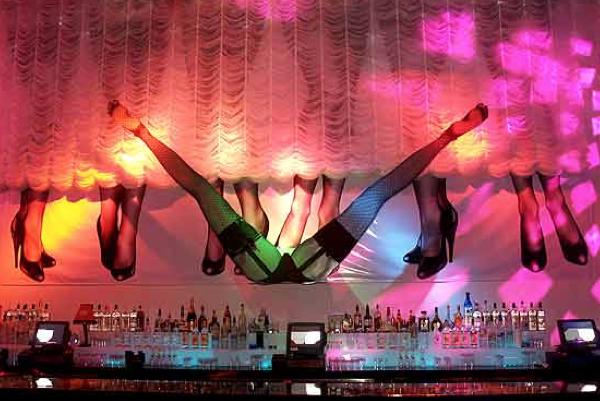 7) Happy Valley (14 E. 27th Street)
In 2006, the kooky duo of Susanne Bartsch and Kenny Kenny started throwing weekly parties at this sexy hangout, and the result magically brought back a pre-Giuliani aesthetic of fun and frolic to a large degree. The Jeremy Scott décor included ladies' legs akimbo behind the bar, and the place boasted a variety of other areas to frolic in, all rich in honky tonk ambience. The Bartsch/Kenny crowd consisted of a lot of nouveau club kids, but this time with a more ethical, composed feel to them. These kids weren't dangerous, though they were still electrifying.

8) The Anvil (500 W. 14th)
When being gay was still subversive and wild, this 1974-1986 club brought gogo boys, drag queens, and leather studs together for some extremely vivid raunch and mayhem. What a trip. But customers would definitely have to wipe their shoes before they got home.



9) CBGB (315 Bowery)
In 1973, Hilly Kristal opened this divey ode to mohawks, razor blades, safety pins, and punk. They did not play Donna Summer records--though maybe they burned them. [Side note: The true heyday of Max's Kansas City, alas, was before my time.]

10) The Roxy (515 W. 18th Street)
Shirtless muscle gays could compare chests with cartoony drag queens, all thumping to the beat on the gigantic dance floor, where the music became more and more like a synthesized dental drill. Upstairs, those that didn't fit in with the chesty bunch enjoyed a kitschier lounge ambience complete with K-tel-style music courtesy of DJ Andy Anderson. Either way, it was party time.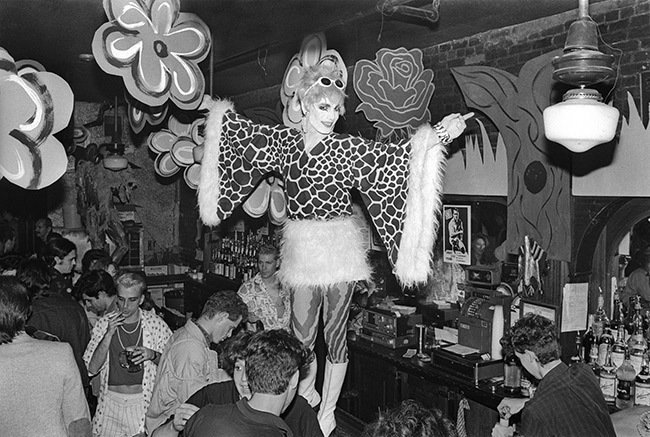 Tabboo at the Pyramid. Photo by Lynn Grabowski.

11) The Pyramid (101 Avenue A)
In its '80s heyday, this was the place for the off-center drag and performance art crowds to come together and celebrate their eccentricities via partying and/or various works in progress. That anything-goes mood of hungry creativity was very then, and is very missed.
12) The World (254 E. 2nd Street)
, a large ballroom-turned-rec-room, where Dean Johnson's shiny head, black dress, and combat boots lit up the night at his weekly Rock and Roll Fag Bar. In the transitional '80s, the World was a mecca for edge.
13) Limelight (20th and Sixth)
This church-turned-disco started sizzling when club kids took over the joint and made it their hedonistic playpen. I'd host dinner parties in the chapel for various offbeat celebrities, loving the mix of has-been and wannabes. But it all felt a little icky--more so when things got truly rotten--and suitably enough, the place is now a mall where you buy get handbags and gelato.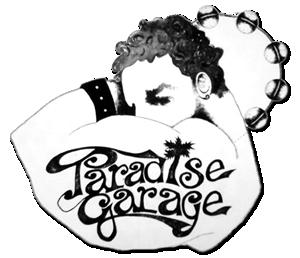 And by the way, I wasn't a regular at
Paradise Garage
, but I could see the passion there, so let me include it on the list for all the people who found it heaven. Thanks. Off to a club.