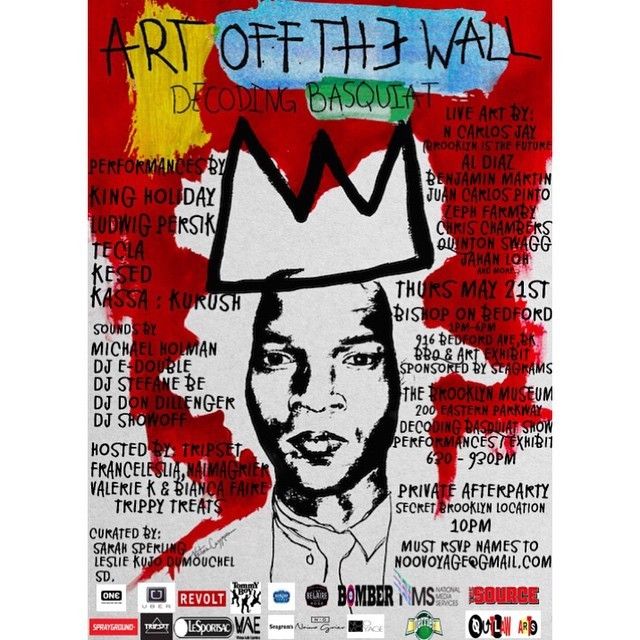 Three Brooklyn venues will celebrate and "decode" Jean-Michel Basquiat on May 21st.  "Art Off the Wall: #DecodingBasquiat" takes place all day Thursday with performances, exhibitions and music from a large group of international artists.  First off, there's a big group show curated by
N. Carlos Jay
with art and installations inspired by the '80s at
The Bishop Gallery
(916 Bedford Avenue, Brooklyn) from 1 to 6 p.m.  Featured artists include Al Diaz, Benjamin Martin, Chris Chambers, Lee Jaffe and many more; plus there's music by Cabo Blanco.  Then from 6:30 to 8:30 p.m., head over to
the Brooklyn Museum
(200 Eastern Parkway) for a big multi-media happening with music, video and performances including the nine-piece "astro-soul" band, King Holiday, in the museums amphitheater.  Admission is free with museum entry.  And finally, there's a "secret" afterparty starting at 10 p.m. with more live installations and performances at a location disclosed only to those who RSVP to:
NOOVOYAGE@gmail.com
.  Admission to the afterparty is $20 -- or $10 if you can throw together a groovy 80s look.
If you're going out to the Brooklyn Museum, remember that their exhibit "
Basquiat: The Unknown Notebooks
" will be up until Aug 23rd.  On June 24th,
Princeton University Press
  will publish a facsimile edition of eight of the artist's notebooks edited by Larry Warsh.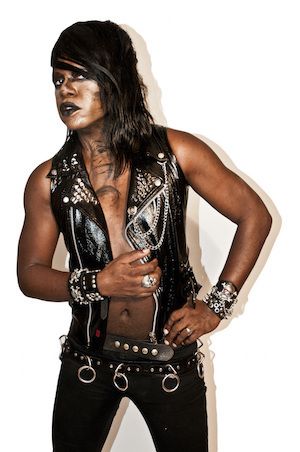 M. Lamar is doing a one-off show called "Destruction" on Thursday, May 21, 6 to 8 p.m. (performance 7 p.m.) at 601
Artspace
(601 West 26th Street #1755).  The work will explore "Apocalyptic themes in Negro Spirituals blending this traditional music with Lamar's compositions to bring on the death and destruction of white supremacy."  Lamar (nee Reginald Cox) is the twin brother of actress Laverne Cox and played her pre-transition counterpart on "Orange Is the New Black."  Don't miss this.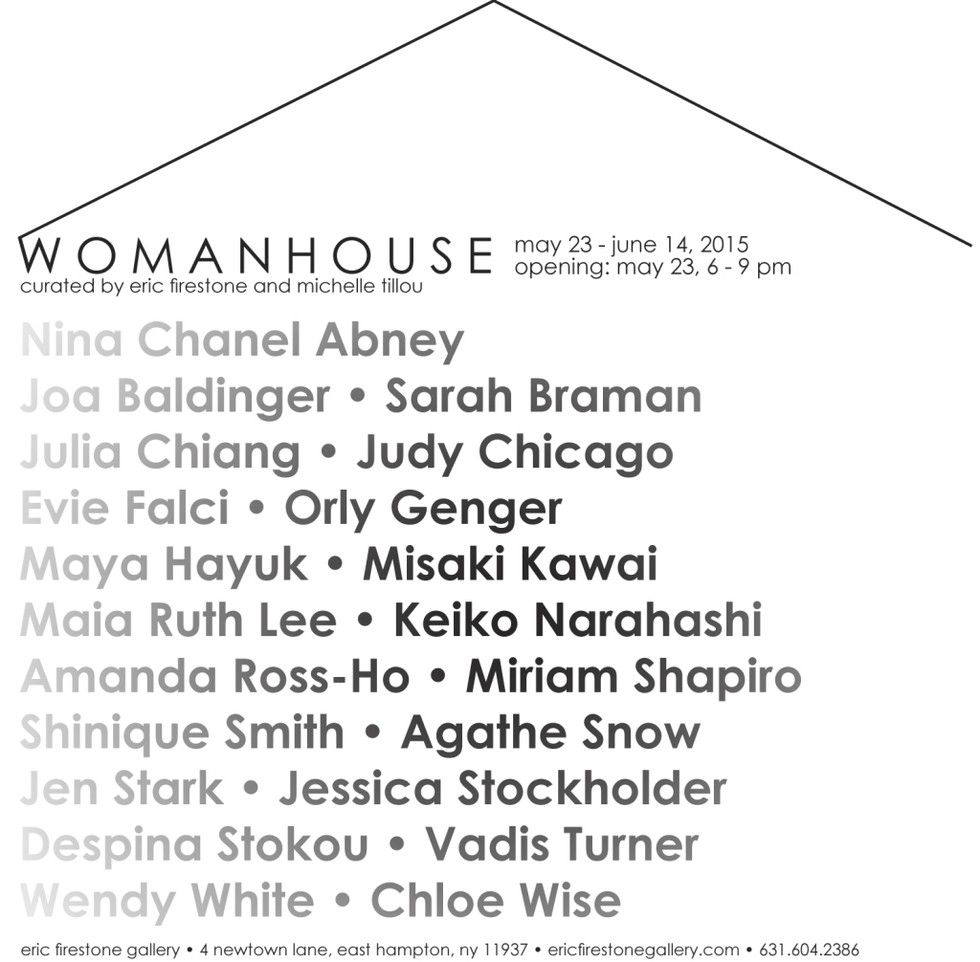 Out in the Hamptons,
Eric Firestone Gallery
(4 Newtown Lane, East Hampton) has a new group show by female artists called "Womanhouse" with works by 21 artists including PAPER faves
Orly Genger
, Maya Hayuk, Jen Starck, Julia Chiang and more.  The opening is on Saturday, May 23rd, 6 to 9 p.m., and it will be up until June 14th.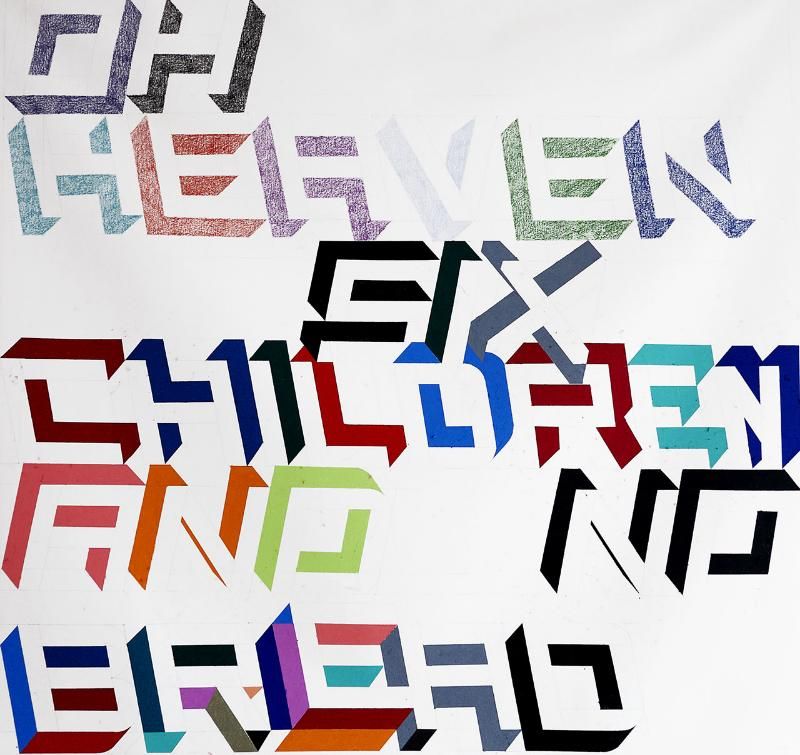 Siggi Hofer
Kai Matsumiya Gallery
(153 Stanton Street) opens a solo show called "My Mother Sold Cigarettes in the Mountains" by the Austrian-based artist Siggi Hofer on May 21st, 7 to 9 p.m.  His text-based paintings feature "revelations, slogans, half-thoughts, and cultural subjectivities."  Up until June 26th.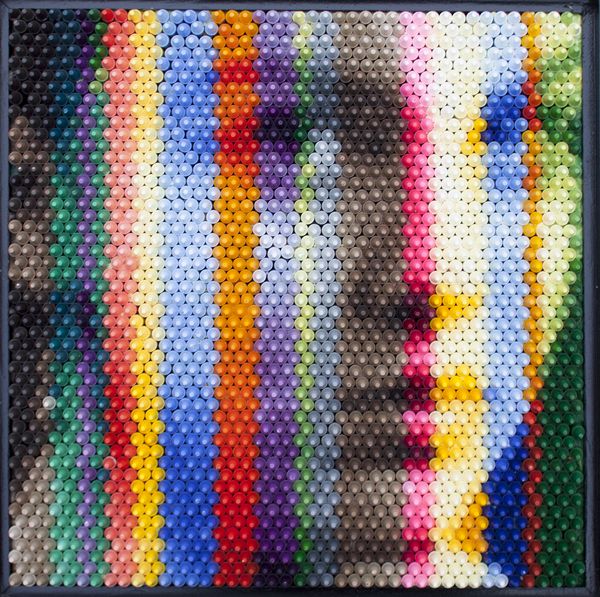 Kim Foster Gallery
(529 West 20th Street) opens a group show called "Color Value" on May 21st, that "delves into the usage, meaning, intensity and value of color in the making of art."  The artists include Moon Beom, Sydney Blum, Jeff Doran, Christian Faur, Will Kurtz and Joanne Leah.  On view until the end of July.
The Rubin Museum of Art
(150 West 17th Street) opens "Collecting Paradise: Buddhist Art of Kashmir and Its Legacies," on Friday, May 22nd, 11 a.m. to 5 p.m., admission is $15.  This new exhibition "traces the continuity of the art of Kashmir in the Western Himalayas for over a millennium."   There's also a member's reception and preview on Thursday evening.  On view until October 19th.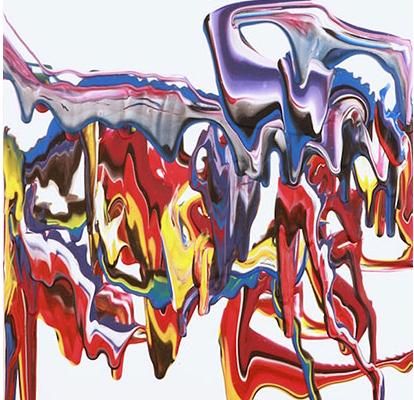 Peter Fox
NYC artist Peter Fox has a show of new works, "Blind Trust," opening on May 22nd, 7 to 9 p.m., at
The Front Room
(147 Roebling Street, Williamsburg) and up until June 21st.  Fox's series of "poured paint" works" transmit veins of parallel color, which develop into abstracted forms, evoking aspects of surrealist figuration."

Head over to Brooklyn Bridge Park and check out the new outdoor exhibition by Jeppe Hein called "
Please Touch the Art
." Eighteen "whimsical and interactive" works -- including a fountain that creates "rooms" of water -- by the Danish artist will be displayed in the park until April 2016.  This is presented as part of the Public Art Fund, with Bloomberg Philanthropies the lead sponsor.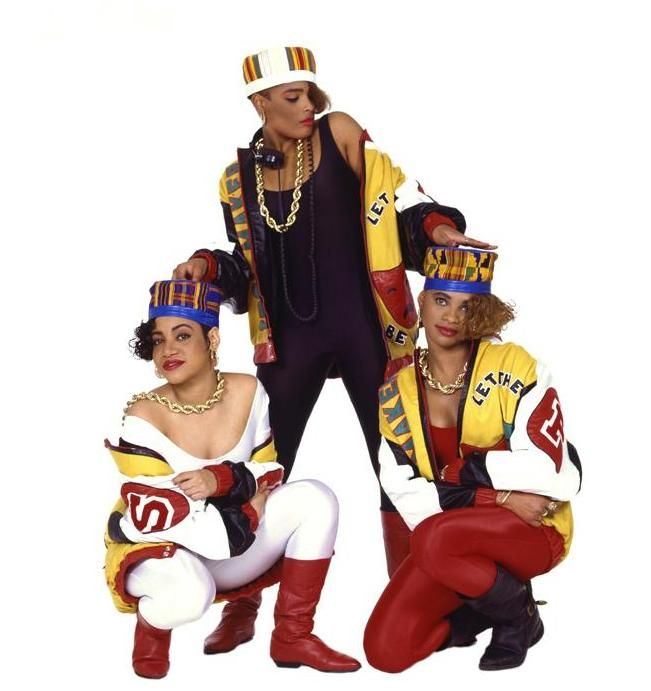 Also don't forget to check out "Hip-Hop Revolution: Photographs by Janette Beckman, Joe Conzo and Martha Cooper" at the
Museum of the City of New York
(1220 Fifth Avenue @ 103rd Street).  It's up until September 13th, with several public programs including one on June 3rd at 6:30 called" Hip Hop's Visual Style: A Look Behind the Scenes" with Janette Beckman, Cey Adams and Bill Adler discussing "the relationship between sound, image and design, and their contributions to shaping the brands of various major hip-hop artists."