UPDATE: Louisiana, Massachusetts, Indiana, Ohio and North Carolina are the most recent states to join this anti-Syria trend.

UPDATE #2: And now Arizona.

In more garbage world news, Texas governor Greg Abbott has followed the trend of Alabama and Michigan in refusing to accept Syrian refugees into the state, in the wake of the devastating ISIS terrorist attacks in Paris on Friday night.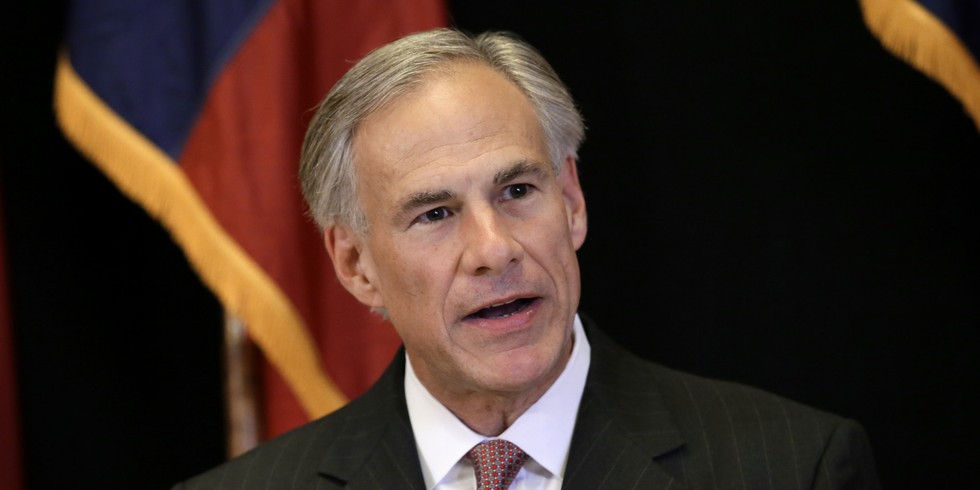 Abbott stated, in an open letter, his reasoning behind this absurdly racist stance:
As governor of Texas, I write to inform you that the State of Texas will not accept any refugees from Syria in the wake of the deadly terrorist attack in Paris.
Further, I - and millions of Americans - implore you to halt your plans to accept more Syrian refugees in the United States. A Syrian "refugee" appears to have been part of the Paris terror attack. American humanitarian compassion could be exploited to expose Americans to similar deadly danger. The reasons for such concerns are plentiful.
Cool, bro.
Abbott goes on to say:
The threat posed to Texas by ISIS is very real. ISIS claimed credit last May when two terrorist gunmen launched an attack in Garland, Texas. Less than two weeks later, the FBI arrested an Iraqi-born man in North Texas and charged him with lying to federal agents about traveling to Syria to fight with ISIS. And in 2014, when I served as Texas attorney general, we participated in a Joint Terrorism Task Force that arrested two Austin residents for providing material support to terrorists - including ISIS.
Given the tragic attack in Paris and the threats we have already seen in Texas, coupled with the FBI director's acknowledgment that we do not have the information necessary to effectively vet Syrian nationals, Texas cannot participate in any program that will result in Syrian refugees - any one of whom could be connected to terrorism - being resettled in Texas.
Effective today, I am directing the Texas Health & Human Services Commission's Refugee Resettlement Program to not participate in the resettlement of any Syrian refugees in the State of Texas. And I urge you, as president, to hatt your plans to allow Syrians to be resettled anywhere in the United States. Neither you nor any federal official can guarantee that Syrian refugees will not be part of any terroristic activity. As such, opening our door to them irresponsibly exposes our fellow Americans to unacceptable peril.
Michigan governor Rick Snyder, who just in September had announced that the state--which is home to a large Muslim population--would be working in tandem with the federal government to harbor civilians fleeing war-torn Syria; Snyder added "Isn't that part of being a good Michigander?"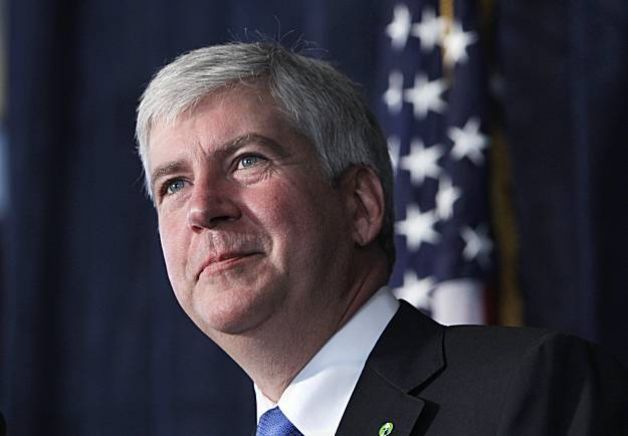 Mr. Snyder, you gotta walk that talk, boo.

Last night, Alabama's governor Robert Bentley stated, "After full consideration of this weekend's attacks of terror on innocent citizens in Paris, I will oppose any attempt to relocate Syrian refugees to Alabama through the U.S. Refugee Admissions Program. As your Governor, I will not stand complicit to a policy that places the citizens of Alabama in harm's way."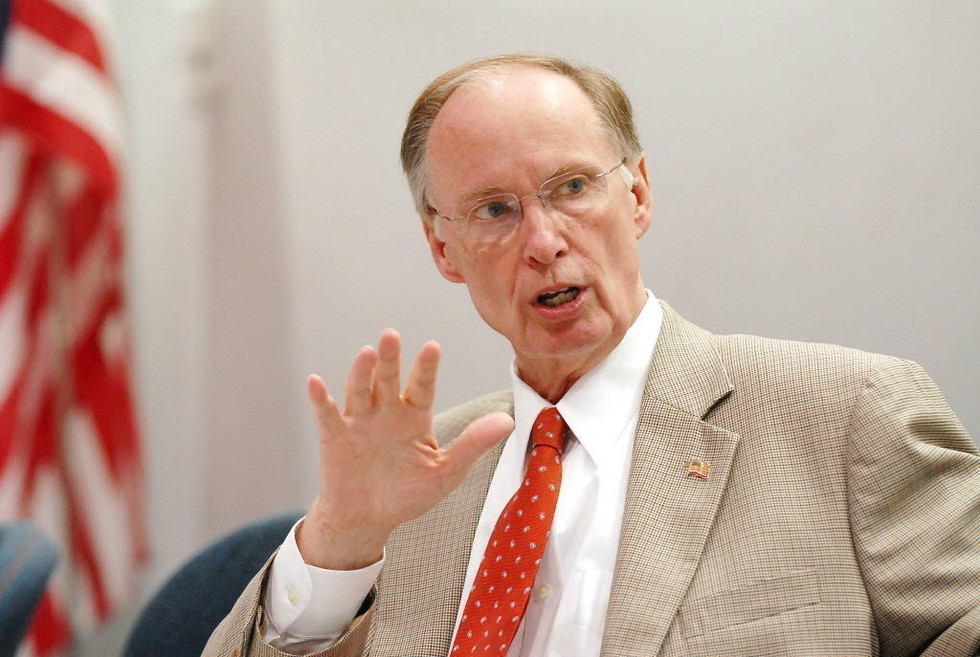 The state currently has one Syrian refugee processing center in Mobile; no word yet on if they will be relocated.

Not to be outdone, less than an hour ago, Arkansas governor Asa Hutchinson joined in on the fun.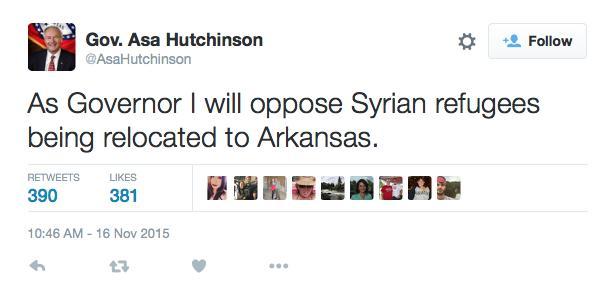 How's that for the American way?!

Fortunately, President Obama remains stedfast with his vow to allow up to 10,000 Syrians into the US in 2016.
"The people who are fleeing Syria are the most harmed by terrorism," he said. "it is very important that we do not close our hearts to these victims of such violence, and somehow, start equating the issue of refugees with the issue of terrorism."
]