Neil Fridd is putting the finishing touches
on his latest costume. He's dubbed it "Monkey Businessman" and it consists of fur-covered pants from a New Jersey tag sale, a crisp button-down shirt, a tie, a blazer and a furry monkey head. His bandmates give it a once-over and announce it's perfect. With a smirk, he admits maybe it is. "I guess I am half businessman, half animal."
At the helm of the Terror Pigeon Dance Revolt!, Fridd, 22, is the soft-spoken leader of a rotating crew of 20 who throw raucous singalong dance parties where bandmates have been known to emerge from enormous cakes and dress up as six-foot-high cardboard slices of pizza. It's a mash-up of 21st-century references pulled from the scrap heaps of suburban yard sales and drowned in a healthy dose of confetti. Think Disneyland meets Ziggy Stardust, coated in a layer of sweat. But don't call it messy or unplanned. Obsessive flowcharts give bandmates instructions like "Be Darth Vadering. Prop: fight sword." And among his influences--drag queens, Leo Gallagher -- Fridd cites the performance and video artist Erwin Wurm.


As a visual arts major at SUNY Purchase, Fridd -- who is slight and tends to pull at his thin, ruddy beard--developed the band to be a performance project. From there, it grew to a college party phenomenon. And though the band started with just a few rowdy friends, it ended up with a troupe that can include as many as 38 musicians. Fridd culls those who aren't tied down by jobs to form tour line-ups. But a few members are now standards -- like the kooky songwriter Jesse Cooper Levy and the sardonic Dana Kristine Caputo, who bakes all of the cakes and dresses as an M&M at nearly every show. Since graduating in '09, they've toured from Oslo to Tokyo, appeared in French fashion mags and signed to David Byrne's Luaka Bop label. An indie fairy tale! This May, they dropped the full-length I Love You! I Love You! I Love You And I'm In Love With You! Have An Awesome Day! Have The Best Day Of Your Life! 
With a cover that looks like it was designed on KidPix, the album is just over a half hour of tropically-tinged, glittery GarageBand disco that effusively praises snow days and pretty girls. While emo kids mope, punks spurn and hippies chide, Terror Pigeon makes a show of positivity that's almost garish. On the single "Ride Friendship," Fridd's vocals crack with overeager excitement as he repeats, "You make my heart explode!" "I think," Fridd muses, "there are way more things to be happy about than sad about."


And that's why the band's long-winded, seemingly nonsensical name actually makes sense; while it includes words that sound more appropriate for a hardcore metal band -- "terror" and "revolt" -- it only mocks their gravity. "Part of why I like the idea of a 'terror pigeon,'" Fridd explained, "came from the idea of it being, like, something that's terrifying but totally helpless and not capable of actually hurting anyone." The addition of the word "revolt" seems appropriate now, Fridd admits, because the band is a revolt of sorts -- if not a particularly bloody one. "We weren't down with the traditional way concerts are experienced," Fridd said. "That is, passively."


Fridd is the kind of rare, quiet leader who can lead revolts with sheer good will. Part businessman, part animal and clad in the "Monkey Businessman" costume, he is attempting to climb a light pole for a photo shoot when a wedding party passes by, headed to their own shoot in tuxes and lavender floor-length gowns. If there is an occasion to see society's two polar halves, it is this, and they give each other deep, curious stares. But Fridd isn't fazed. He saunters up to the groomsmen and asks if they'd like to be in the shoot. While the bride refuses (it's "her" day), a groomsman's interest is piqued and he asks, "What's the band?"
___________________________________________________________________________
THINK BIG. THINK BROOKLYN
. 
Here are some other really, really big bands from Brooklyn to check out. 
SKELETON$ BIG BAND 
Skeletons began in 2001 as the solo project of Chicago native Matt Mehlan. Since then, the idiosyncratic pop outfit has expanded, contracted and expanded again, appearing in various incarnations -- as the Skeletons and the Girl-Faced Boys, the Skeletons and the Kings of All Cities, and now as a 12-18 piece called the Skeleton$ Big Band. The fellows just finished up an album based around conversations had on Greyhound buses and stations. 
EFFI BRIEST 
After releasing a seven inch as seven members back in 2007, this all-female band took their time in the studio and returned this spring as a slimmed down six-piece with a dark, psychedelic kraut-rock-inspired debut album called Rhizomes.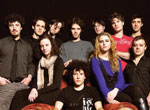 EMANUEL AND THE FEAR
These 11 classically trained musicians, fronted by Emanuel Ay vas, play indie-orchestral pop music with influences ranging from Arcade Fire to Rufus Wainwright to Igor Stravinsky. Sounds like the makings of a Glee spin-off, no? This past March, they released their debut album, Listen, a whopping 19 songs that are at once superduper epic yet restrained.