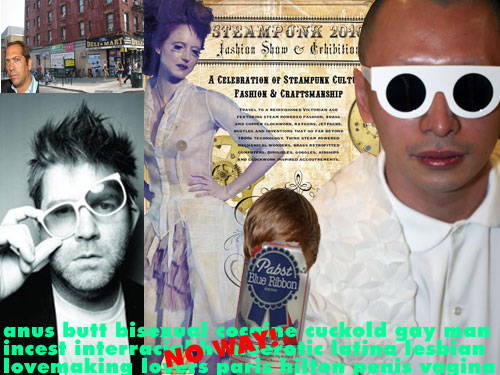 1.
THE GOOGLE INSTANT BLACKLIST
. A list of words, some that are horribly offensive and some that just aren't -- "lesbian" and "gay man" are included -- that Google Instant won't act upon. And yes, it's NSFW.
2.
Listen to Kanye's "Lost in the World
."
3.
Teddy Bears wearing "Team Bieber" tee-shirts will hit retail stores on December 4
. Or you could just have a cold
Bierbeer.
4.
Terence Koh
  is looking for somebody to
follow him around for 24 hours and video "every waking or sleeping moment."
via
Facebook
5. October 24 is
Steampunk Day
at the
DUMBO Loft
(155 Water Street, 11 a.m. to 8 p.m., $5) with shopping and a fashion show at 4 p.m.
6.
LCD Soundsystem
is playing a private party tonight at the
Angel Orensanz Foundation
(172 Norfolk Street) for
Microsoft Advertising and Advertising Week
.
7.
Steve "Good Night Mr." Lewis is moving to Williamsburg
on Saturday. See you at
Lady Jay's
Steve!