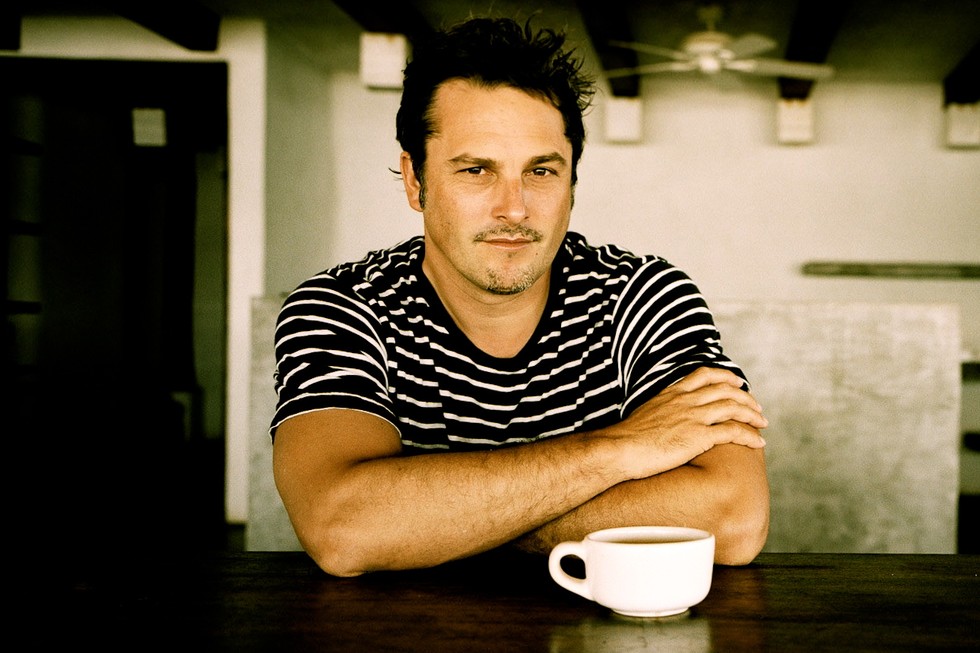 Longtime resident of Williamsburg and neighborhood super-fan Zeb Stewart is probably one of the chillest, but most well-connected dudes in Brooklyn. He is partner-owner in Union Pool, Hotel Delmano and Cafe Colette, three Williamsburg strongholds with lasting potential (the likes of which are rare in such a quickly changing hood). Though he's been around for nearly 18 years, he has the enthusiasm of a newcomer and the wisdom of a lifer, all of which is apparent in his passion for creating the "extensions of our living rooms" (how he sees cafes and bars). In an-all nighter up and down the streets of Williamsburg, Stewart gave PAPERMAG a backstage pass to the delights of owning the places he loves to frequent. 

8:25: Zeb greets me at the bar of Cafe Colette, his new place on Berry Street in Williamsburg. The place is airy, very pretty in a non-precious sort of way and comfortable enough to imbibe an entire bottle of wine without much notice, which is exactly how we began the evening. Zeb's gorgeous girlfriend and partner in Colette, Erin, also runs the wine program and dropped over with a bottle of Italian rosé. Though we meant to only have a bite we ended up having a three course meal starting with three verdant salads. We bonded over being Sagittarii: ("We're intense! And really good at sex." True story), loving Union Pool ("I haven't spent a ton of time there this year. Now I'm just a fan. It's so much fun to be a fan."), and the way New Yorkers socialize ("Restaurants and bars are like extensions of our living rooms. There are some friends I've had for years and never seen the inside of their apartments."
9:30: Recognizing the butcher from Marlow and Daughters at a table near us, Zeb sent out lamb ribs. "They're awesome. And I don't eat lamb a lot." Erin sat down with us and over a giant pork chop smothered in rhubarb and grit-like polenta Zeb talked about living in Bushwick when he first moved here. "I had this giant loft, and nobody was out there. The cops would roll by and be like, "What're you doing out here?!" On one side of me was a prostitution operation where blow jobs were like $5. I never got one. On the other side was a coffin factory. I'd walk out in the morning and there'd be coffins everywhere. I'd be like, "Guys! The coffins!"" 
10:15: After espresso, a plate of pillowy strawberry shortcake and perfectly bitter chocolate pot de crème we hopped across the street to Hotel Delmano which was packed to the gills with all sorts of beautiful Williamsburg types. Knowing at least a dozen people wherever he goes, Zeb introduced me to a group hanging near the door and a few followed us in to Table 6 (Zeb's favorite) and we drank Tecates and tequila gimlets and snuck a few oysters from one of the best shuckers in New York: "He averaged one oyster every four seconds at the Grand Central Oyster shucking contest. I want to throw one of those. We could have oyster relays!"
11:55: "We should probably go to a bar that isn't mine, right?" Zeb inquired. This took us up to Nights and Weekends, the Five Leaves crew's new spot. Aiden, a bartender from Delmano, joined us, and of course, they knew half the people in the place. Tequila gimlets and just plain old tequila arrived as a group of young and scantily clad girls tugging at their skirts wandered in from the Kid Cudi show down the street. No one was really feeling the vibe, so we grabbed a car down to Union Pool.
12:40: Rolling up to the back yard, Zeb was excited. "It didn't really have a name, but we started calling it Bongo's." We grabbed stools, ordered frozen margaritas and margavezas and caroused with acquaintances. At one point Zeb turned on the misters under the bar's tiki hut roof eliciting a couple of squeals and laughs from girls sitting beneath. Every one should be at Bongo's this summer, at least a dozen times. 
1:30: On the way out of Union Pool Zeb got distracted and wanted to drop into the back room where bands and acts perform. Grabbing the keys, he pulled me and Aiden in where we hopped up to the bar. Zeb poured what he claimed was a special recipe of tequila half shots chased with shots of beer. We ran out the door back to Delmano for closing.
1:45: At Delmano, the place was winding down. The bar staff were smoking, cleaning, drinking Tecates and Budweisers and we bellied up to the bar where I attempted to make eyes at a particularly handsome bar back. Zeb said earlier in the night, "I tell the guys at Delmano, this place isn't great yet. But it will be in ten years when there are old dudes sitting at the bar watching horse races and drinking beers." At this point, things were pretty fuzzy for our little caravan, but not fuzzy enough for Aiden and I to decide it was imperative to shuck oysters for everyone. Into the basement we descended and popped back out 15 minutes later with acceptably shucked mollusks (except some random shells that I neglected to fish out). 
2:30: Sufficiently sauced, I considered heading out, but got sidetracked along the way. Eventually Zeb excused himself to catch a car back to Bushwick, but not before promising a Bar Crawl, Part Deux. I made it home in time to see the sun rise. Total success.