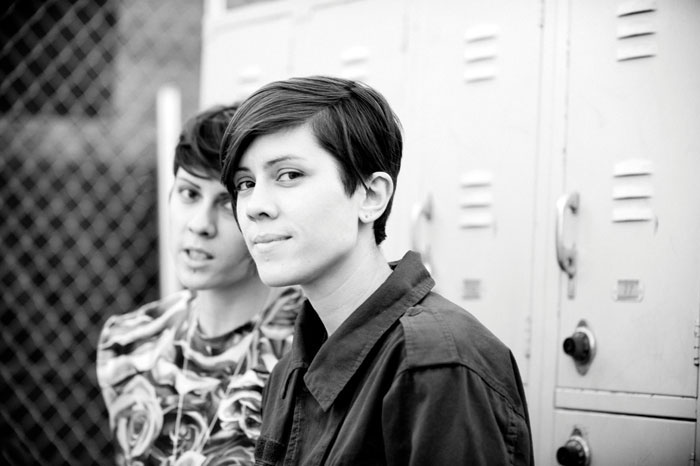 (l-r) Tegan, Sara
After a decade-plus career that has produced six albums of intimate, tightly wound indie rock, the sisters Quin of Tegan and Sara changed direction dramatically in 2013 with
Heartthrob
-- a slick, infectiously pop collection of stadium-ready hooks and Day-Glo synthesizer bursts. The new sound has won over new and hardcore fans alike: The record sold 49,000 units in its first week and spawned a hit single with the album opener "Closer." For the Quins, making a pop record wasn't a cynical move. It came from the drive to remain dynamic as artists after years of success.
"We know our best work has come from the periods of time when we were trying to do something different, when we're trying to do something intense, personal...something that covers new ground," says Sara. "I just didn't want to make another record that people expected from us."
The sisters are embracing the new phase of their long career, determined not to rest on their laurels, which include several gold albums in Canada. The ladies are currently gearing up for a soon-to-be-sold-out summer tour with fun. and have started branching out into new territories, like writing songs for other artists (Carly Rae Jepsen and Lisa Loeb, to name a couple) and working as music supervisors for an episode of MTV's sitcom
Awkward
.
"If anything now we're leading the charge [with our new sound]," says Tegan. "I mean, sometimes I hear myself talking to the label or our managers and saying, 'Come on! Let's go!' And when people say, 'Don't be afraid to be the old Tegan and Sara,' we're like, 'Fuck those bitches!'"
MORE FROM OUR SUMMER MIXTAPE