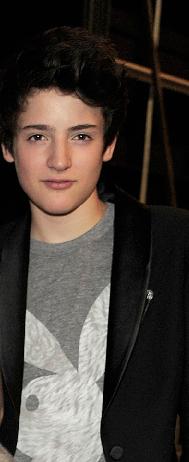 MM just loves a stylish young whipper snapper!
Elle Fanning
,
Hailee Steinfeld
,
Selena Gomez
--  all adorable, all stylish, all mere babes. Add to the list
Harry Brant
, the fashion-addicted teenage son of publisher/art collector
Peter Brant
and supermodel
Stephanie Seymour
. Brant will be joining his brother,
Peter Jr.
, to host
Miu Miu
's Fashion's Night Out soiree tomorrow night along with fellow teen, blogger
Tavi Gevinson.
I can't wait and caught up with Harry to chat with him about FNO and fashion in general.

Do you love Fashion's Night Out or is it too overwhelming?
I love Fashion's Night Out! I think its so much fun to go around New York at night perusing all the shops. It's like the fashion world is having a block party. What's not to love?

What do you plan to wear?
I could say that I had my outfit planned to every last detail but I'd be lying through my teeth. I have no idea.

What are your favorite fashion labels for yourself and for women?
For myself, I'm addicted to Prada, Galliano, Lanvin, and McQueen. For women, there are so many great designers; it depends on who you are and what you look good in.

Do you consider yourself a shopaholic?
Absolutely. You could put me in K-Mart and I would be checking out with four carts. Sometimes I just have to ask myself,  'Do I need this battery-powered waffle maker?' and then I'll come to my senses.

Who do you think should be in Miu Miu's next ad campaign?
Ever since Hailee Steinfeld wore that Prada dress to the SAG awards I thought she would be perfect for the Prada/Miu Miu campaign. I also think Daphne Groeneveld did a fantastic job when she did the campaign so I would love to see her do it again.