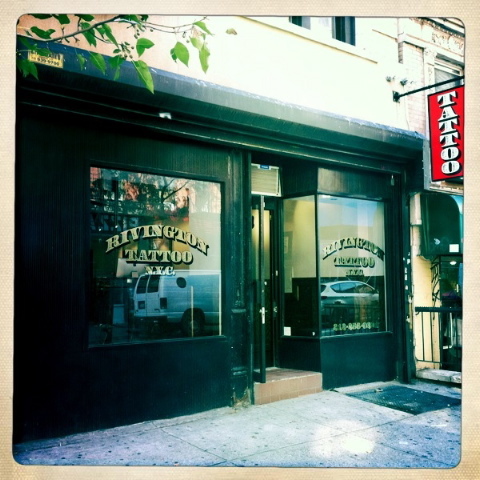 If I'm going to get my (gulp!) 14th tattoo, I am trusting my arm to  a 20+ year veteran of the fine art of skin ink. Morgan, the former owner of SoCal Tattoo in Los Angeles, recently opened the doors to
Rivington Tattoo N.Y.C.
on the Lower East Side with famous Manhattan face
Wass Stevens
who not only rules the velvet ropes at Avenue nightclub, but  has also appeared in movies like
The Wrestler
and the upcoming
Goat
with Ice-T and Ja Rule. So how did Stevens get in the tattoo trade with Morgan? "The idea and subsequent partnership was born while I getting the first of what I'm sure will be many tattoos from Ethan," Stevens says. (It was a portrait of a lion and took several hours for Morgan to do -- apparently plenty of time to talk shop.) Rivington Tattoo is high-end -- no sauced sailors in sight -- and was designed by Stevens to look like "a turn of the century bank" with steel and walnut and tin ceilings. Expect lots of celebs and nightlife fixtures to be dropping by for some fancy body art. "Because of my acting and nightlife careers, I know a lot of different types of people from rockers to actors to athletes to hipsters to preppies to billionaire business men," Stevens adds. "The key was to give them a place where they all could let loose, explore their wild or artistic side, and not feel foolish doing it. Very much like the atmosphere inside the nightclubs that I guard. The difference is this experience does not last for an evening, it will live on forever." So unlike choosing a cocktail to slug down, choose what image you put on your body carefully -- and be 100% sober.