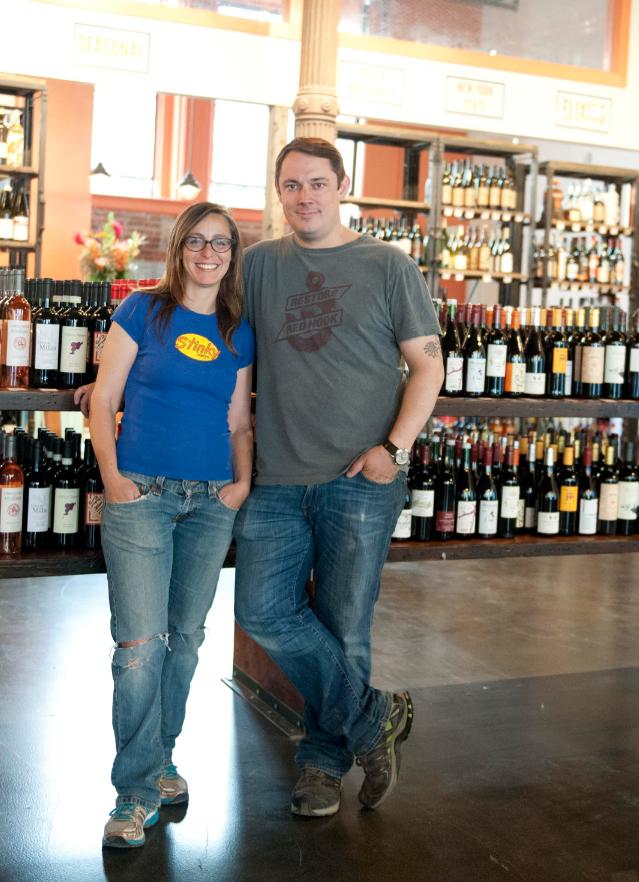 Photo by Michael Harlan Turkell
A former Men's Wearhouse ("You're going to like the way you look") is now Back Label Wine Merchants, the first Manhattan foray for Stinky Bklyn's Patrick Watson and Michele Pravda. Believe it or not, the couple beat out Bed, Bath & Beyond for the Chelsea spot's liquor license. Instead of big box-type wine you'll find small, independent producers and a bargain table of interesting bottles for under $20. In addition to fulfilling your liquor needs for Memorial Day weekend, there's a Stinky Bklyn outpost next door with the best cheese, charcuterie, gourmet sandwiches, beer and Brooklyn-made artisanal treats on the planet. A lot of rosé will be open for tasting this weekend, plus a renegade group of musicians will play jazz and ragtime on Friday from 5-8pm and Sunday from 2-5pm. Watson opened up for some earthy wine talk.
So Bed, Bath & Beyond really wanted to go into the wine business?
Shortly after our first hearing with the SLA [State Liquor Authority] we learned Bed, Bath & Beyond wanted to open a wine and liquor store in their mall on Sixth Avenue. Six different liquor stores came and protested that the competition would hurt their business. The SLA was only going to grant one liquor license for the area. We created a list of 200 products we agreed to not go near, huge brands like Yellowtail and Veuve Clicquot. We showed that we'd have a selection of small, family-run brands that wouldn't compete with what was already being serviced in the area.
It's like David beating Goliath.
Definitely, but we had a better model whether we were first in line for the license or not.
If money's an object, which wines would you recommend?
We have a lot for $11, $12 and $13. It's a great time to be a buyer and consumer of wine. Supply has surpassed demand. I would say one of the best possible values is from Greece, a grape called Roditis from the Pelopponese for $11 a bottle. It's about as refreshing as a jump in the North Atlantic this week, it's that perfect.
Can you explain why you called the store Back Label?
One thing Michele and I have always thought is education is everything when it comes to wine; it leads to appreciation. To have a relationship with a vineyard starts with the back label, where all the important information is.
How different are Manhattan customers from Brooklyn customers?
We've got the same awesome people coming in -- families, kids, dogs -- who are really happy we're here. In Brooklyn you can throw a rock and hit a decent wine shop but in Manhattan you can count the good stores on two hands.
Any wines you don't like?
I can't stand Merlot from Tuscany. I look for purity of wine from the region and the vineyard. Super Tuscan is a fruit bomb and doesn't taste anything like a Tuscan wine.
Wines you love?
My heart will always belong to Burgundy and old Austrian Riesling.
What trends are you seeing?
I'm noticing a global trend of carbonically macerating the grapes. For a long time big scores and points ruled the wine world to the point that winemakers from Bordeaux were making fruit-forward wine like California. Now, points and scores are subdued. Nobody really shops that way here. It's no longer about those silly retail tricks. Carbonic maceration depletes the wine's tannin structure, the whole purpose being to make a smooth wine. All the work in the vineyard is out the window. The wine completely loses its identity.
How do you know if a wine is carbonically macerated?
I can tell the minute I smell it. It's a big discussion now and people need to start calling out winemakers on it, tell them this is not the direction you want to go in.
When you took over the space from Men's Wearhouse did you find a secret stash of suits or anything?
No, but we did make wine openers that say 'You're going to love the way this tastes.' Hopefully they won't sue us. We only did it for the first batch. They're going to be collectors' items.
Back Label Wine Merchants, 111 W. 20th St., 212-229-9463, www.backlabelwine.com