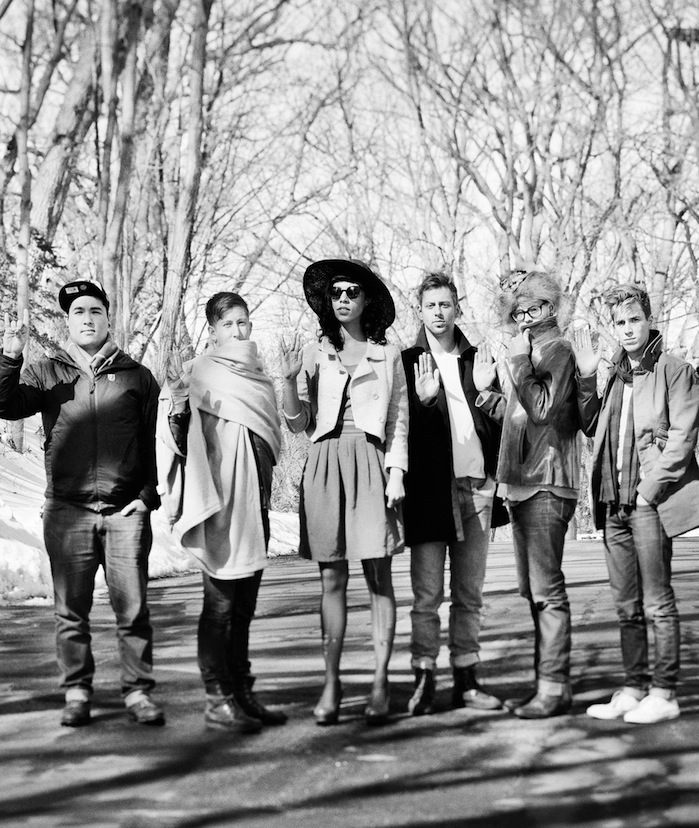 No one really knows why the band Phox chose the name they did -- something about a Davy Crockett foxhat with a tail -- but it could be that the lead singer Monica Marten is the definition of the word. In fact, the only thing more impressive than her voice (which is, well,
very
impressive) is that she's been the lone lady touring the country with six dudes for the last year and manages to look like she's ready to face some paparazzi when she takes the stage night after night. Between her show-stopping hairdo and her straight-outta-the-'50s high-waisted skirts, the girl has style in spades. Never mind that she spends her days in the back of a van with a bunch of smelly dudes -- no offense, dudes.
Fortunately, Phox doesn't have to worry about photogs just yet (except, of course, when they head back to their neck of the woods in Wisconsin, where they're basically hometown heroes). But if things keep going the way they have been, it's only a matter of time.
The band only started playing music together a few years ago, but it's been nonstop since. After landing a record deal with Partisan, they headed to April Base, Justin Vernon's live-in studio that serves as the birthplace of his Grammy-winning
Bon Iver
LP, to finish up their self-titled debut record. "It's a really cool community. He was at the studio for a few days when we were there," she says. "He was very lovely and very human...the perfect Wisconsin gentleman. I'm glad to be able to have that connection."
Part of Phox's charm is that their music sounds like pretty much nothing else out there right now. It's a bit like Wye Oak, mixed with a touch of Tennis and a little dose of The Head and the Heart. Monica describes it best: "We're a folk band that doesn't adhere to anything. The nature of having six different people throw in their own sound makes it kind of eclectic." Eclectic only begins to describe their brand of jangly, infectious soulful pop.
Hailing from Baraboo (a town whose claim to fame, in addition to giving rise to Phox, is being home to the Ringling Brothers), the sextet has known each other for years, which is apparent when you see them live. "If I tried to explain each and every micro-encounter that six people have in a small town, I could go on forever. Two of the guys are brothers, some of the others have known each other for 16 years," she says. "There are overlapping stories, like our a bass player and keyboardist played soccer together when they were younger."
But they weren't playing talent shows and rocking out in friends' basements like you'd imagine. While some of them were in bands prior, Monica had never even considered making music. "I met Matt Holmen seven years ago. He heard me sing, and was like, 'Wait, what's that?' I was curious about singing for a long time, but I was always kind of embarrassed about it."
At the time, she was a hairdresser, and happily so. "I loved doing it. I miss it!" she says. Luckily, she still gets to cut all five of her bandmates' mops. "Everyone's hair starts to get grungy at the same time, and I sit in the back row of the van, so I have to stare at it. I'll be like 'We're cutting hair tonight.'"
Even after touring the country for a year straight, stage-fright still plagues Monica a bit, though you'd never be able to tell. "I always hear the classic, 'As soon as I hit the stage, there's an explosion of fireworks and I'm totally in the moment!' I admire that and wish that was my reality, but there's a large part of me that's doubtful. It's on an incline though. During our very first show, I couldn't look up at all, then I starred at the ceiling. Now I'm a little better." And if all else fails, there's always alcohol. "Every show I feel more safe to be myself. I just have some liquid courage and have a good time."
Phox's self-titled debut album is out now.