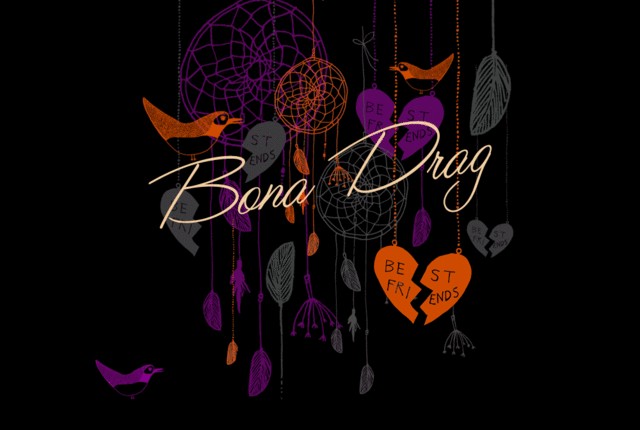 Whereas online shopping tends to be an impersonal, generally overwhelming process, Bona Drag, which launched in October, is a lovingly curated, totally manageable online boutique, which invites the web-surfer to browse and stay awhile. Helmed by Encinitas, California-based Heather Wojner, Bona Drag peddles wares for the glamorous girly-girl on the move -- think Mooka Kinney frocks, Judi Rosen jeans and Kime Buzzelli paintings. We asked Wojner a few questions and she was kind enough to respond!
Alexis Swerdloff: When did you start Bona Drag -- how did it all begin? How did you get into fashion in the first place?
Heather Wojner: I've always been interested in art, sewing and fashion every since I was a little girl. I never received a degree in fashion -- it was more innate. I've had a lot of business experience, so joining the two was perfect for me. After a ton of hard work, planning and not going to the bar, I launched Bona Drag in October of this year.

AS: How did you go about "curating" the store?
HW: That part came easy because I've been making lists of designers for my invisible store for the past five years. One thing I try not to do is stock too many designs from one particular designer, or carry designers with very similar aesthetics. My objective is to tightly curate the entire collection as if it were an art exhibit. I'm very selective with each item I add, and very careful with each order I package.

AS: What's the most popular item that you sell?
HW: The two most popular items would have to be the "bunny" -- a dress by local designer With Hearts in My Eyes -- and all necklaces by Erica Weiner.
AS: I love that you sell Mooka Kinney! I interviewed them and am a big fan. This isn't so much a question; just a fact!
HW: They are the cutest ever. I love that they are so young -- I hope it shows other young girls that anything is possible.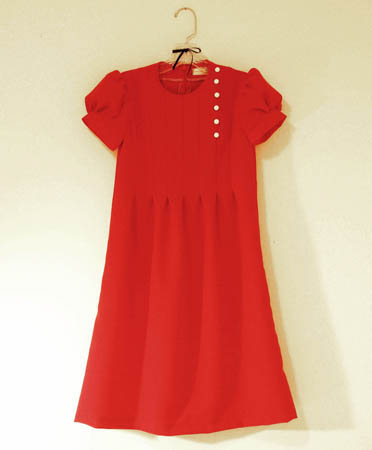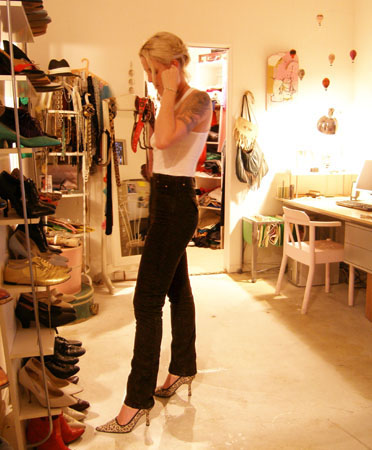 The "Bunny" dress; Judi Rosen cigarette jeans

AS: For last minute Christmas shoppers, what Bona Drag items do you recommend?
HW: Jewelry is the answer since it always fits. I would suggest a Madame Fortuna necklace -- they are all one of a kind using gorgeous vintage finds, which makes for an intimate gift.
AS: Describe the "Bona Drag woman."
HW: She's the friend you call when you're having a gear crisis. She carries ballet slippers in her purse, has Morrissey in her iPod, feathers in her hair and is the first girl to dance at a party. She's confident, funny and intelligent, and she knows what her favorite drink is. She's down for whatever and will dress the part.

AS: Who are your style icons?
HW: My best friends and my mom. Other than that, my current celebrity-ish style icons are Charlotte Gainsbourg, and the two girls named Marie from the movie Daisies. Edie Sedgwick and Patti Smith always.

AS: If Bona Drag were a real life, as opposed to e-store, what would be playing on the stereo when customers walked in?
HW: Cat Power, Lavender Diamond and CocoRosie… any musicians that might inspire ladies to do something awesome. My real life store would resemble the shop in the movie I Love You Alice B Toklas. Over-stocked, full of frocks and flair, fancy cupcakes, records playing and girls sewing and playing dress up.

AS: What can customers expect from Bona Drag in the future?
HW: We are currently working on adding our own line – a collection of handmade mini and maxi dresses (all with matching panties) and 1970's inspired accessories. Special attention will be paid to hand-sewn detail, making every piece personal. Beyond that, my lifelong dream returns to the last question… to open the real life brick and mortar doors of Bona Drag.