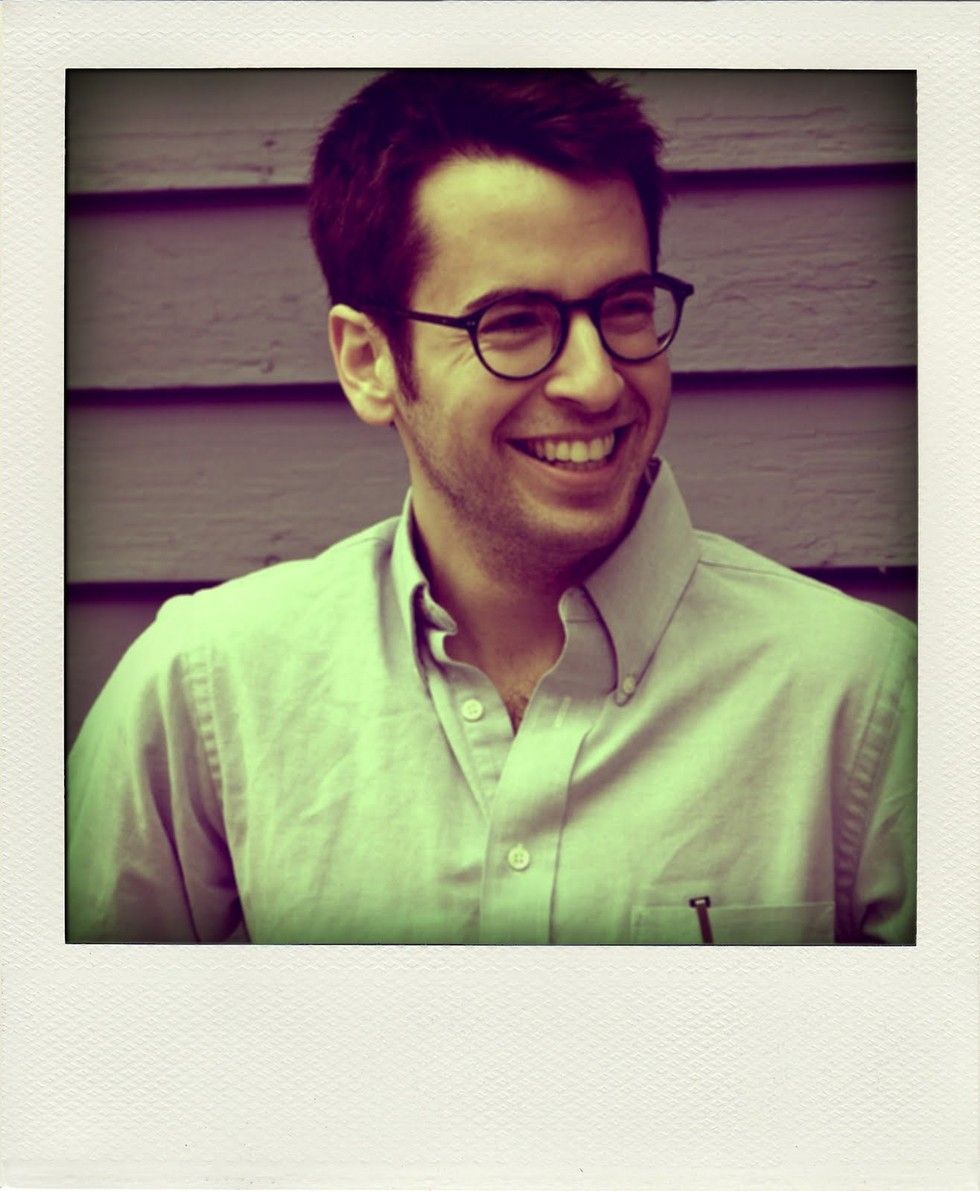 If you're like us and having a little staycation in the city this July 4th weekend, we highly recommend you head out to see
Sex Lives of Our Parents
at Second Stage (the uptown, not midtown location). The new play, about a 22-year-old bride-to-be having visions of her parents' sexual exploits, runs through July 3rd and stars the very cute
Ben Rappaport
from NBC's erstwhile Thursday night comedy
Outsourced
, Lisa Emery and Virginia Kull.  We recently chatted with the playwright,
Michael Mitnick
, on the phone from Palo Alto, where he's sitting in on rehearsals for
Fly By Night
, a musical he wrote with his friends Kim Rosenstock (
Tigers Be Still
) and Will Connolly. (That opens at Theatreworks on July 17th, if you happen to be in the Silicon Valley area then.) Here's what the Yale drama school grad had to say about making house calls to Randy Newman, his writing process and where to take a date in New York City.
So did you ever walk in on your parents?
Um, walk on them doing what? The dishes? Constantly. No, I didn't. My parents stuck to that stork thing till I was 18. But Jeff says this line in the play, "I used to think my parents were sharing an electric blanket during a thunderstorm." That's the lie that I told myself to get through such a disturbing idea.  
Did your parents see the play?
Unfortunately, they did. They came up to me afterward, but luckily I had John Guare, who is a mentor of mine and my former professor, standing right there. So he came out and said, 'I really liked the play, Michael,' and was explaining why in front of my parents because I don't think my folks did at all. I think it's a disturbing topic and they tend to like other things I like a bit more. To be fair, I think it's a difficult thing for a parent to walk into a play called '
Sex Lives of Our Parents'
that was written by their kid. My mom's co-workers were like, 'Oh your son has written a play that's off-Broadway? That's phenomenal.' It's every Jewish mother's dream that she can brag about her son but she can't brag about that play. She doesn't want to tell anyone the title. One of my mother's co-workers told her to bring in the program from the play and pin it up. So my mom emailed me and said, 'Please send something from
Fly By Night
, the family-friendly musical, so I can hang that up.'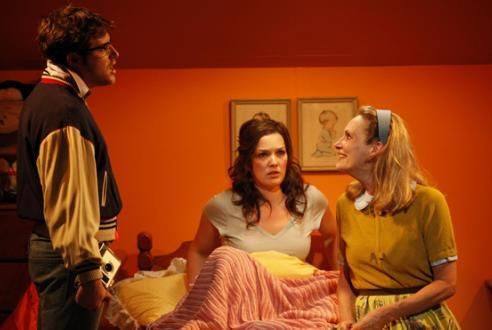 What is Fly By Night about?
It's about the 1965 New York blackout and a bunch of people that went through it and how their lives changed because of it.
Were you in New York for the 2003 blackout?
No, I was in college then, but one of my co-writers was here during it and said people were just giving out ice cream and there was this spirit of generosity in the air of New York that I've certainly never experienced. I keep trying to get them to put the fucking ice cream in and [my co-writers] won't do it.  
How do you know your co-writers?
We were in school together at Yale drama and we started writing it for a basement cabaret summer theater two years ago. It was the little show that could and kept chugging along and gaining speed and attention much to my dismay...
Well, when Fly By Night is on Broadway, your mother can brag. 
Yeah, until I change the title to
How Your Son Thinks About Suicide More than You Thought He Did
. My goal is to amass enough plays with weird titles so that no one's bio is safe.
How long are you in Palo Alto for?  
I'm here until opening night on July 17th and then I go to Chautauqua Theater Festival where they're doing a little workshop production of my new play,
Elijah: An Adventure
. I recently added, 'An Adventure' to the title.  
A nice touch. So you actually have a lot of plays going on right now... 
This stuff was written over a series of years. I don't believe in writing one thing and then keeping it on my hard drive and then growing a beard and walking around Brooklyn and then just saying I'm a writer. If stuff isn't getting produced then I'll just write another thing because everything gets done out of order, which is weird, but that's how it works. 
And what do you do to get them published?
I don't know. I don't do a lot except write plays and screenplays and now a TV show. I just stay busy. I really lost touch with a lot of my close friends and it's a dark time but it's also one where... um, I'm quite lonely... I just try to write a lot. 
But how do you take the next step from writing these works to getting them produced?
Oh, talent.   
Ok, ok.
No, I guess I'm fairly proactive. Like, for instance, I had written
Sex Lives
and even though at that time I already had my agent and some contacts I realized I didn't know anyone at Second Stage. I liked a lot of the plays that they had done recently so I just emailed the literary manager and asked to come in for a meeting. It's a pretty unorthodox way to do things, but she agreed. I was frisked for weapons when I arrived. 
Wow. What was the subject line of that email?
It was, 'Hey, I'm not crazy. Just kidding, I might be. No, seriously, I'm not.' No, I don't know what I wrote. I probably said something along the lines of, 'I'm very polite and I don't want to ruffle feathers.' I think I also probably said, 'I'm represented by William Morris Endeavor and if they knew I was doing this they'd be quite upset.' So I went by and hand-delivered a copy of the play, I printed it out and handed it to them and said, 'I know that you're not going to do this but I like your theater and I would like to be on your radar.' A few months later I had to tell my agent exactly what I did because he had gotten a phone call from them saying they were interested in the play. I tend to do stuff like that because people are quite open to giving opportunities or even lending an ear to someone coming up in the business. I had a weird afternoon up at Randy Newman's house just because he's such a generous person. I originally studied music and I thought that I might want to do film scoring and I thought
Avalon
and
The Natural
and
Awakenings
were just beautiful, so I gave him a CD backstage at a concert and then a couple months later he called me and left a voicemail and said, 'If you're ever in L.A., give me a call. Here's my number.' So I gave him a call and said, 'Actually I am going to be in L.A. next week,' and then I booked a ticket. I went over to his house and I spent the afternoon showing him a little film I scored, which I realized later, I had totally ripped off from one of his earlier scores. We mostly just talked. He was an incredibly generous person.
Where do you usually do your writing?
I generally write in my bedroom between like one and six a.m. I drink and hang out with friends and then I try to get myself to write. I can edit in public places and I can write screen plays in public places for some reason, but not plays. I don't work off of outlines for plays and if I'm thinking too much and trying to form the story too much then it's a shitty play.  
What have you seen that you really liked in New York?
Play Dead
at the Players Theater on MacDougal street
.
It's one of the best times I've had at the theater in a long time.  
That sounds like a quote from a man-on-the-street review on taxi cab TV.
I'd love to be on taxi cab TV. I'd love people just pushing the screen, off, off, off, off.
Play Dead
is a combination of spiritualism and magic show and play and it's by Todd Robbins who was a carny. Is that a derogatory word?
I don't think so. 
He was in the Coney Island freak show for a long time and he and Teller from Penn and Teller put together an unbelievable evening. When I go to the theater I try not to make eye contact with anybody. I'm scared of crowds. But after seeing
Play Dead
, there was a really exciting feeling of survival and glee and happiness that I hadn't experienced in a long time. You should check it out. It's a great place to take a date, because everyone is grabbing on to each other  for dear life.  
Did you take a date? 
No. I didn't. Again, a squandered opportunity. I think I did some really inappropriate things to the arm rest.
Above: 
Michael Mitnick and a scene from
Sex Lives of Our Parents
;.