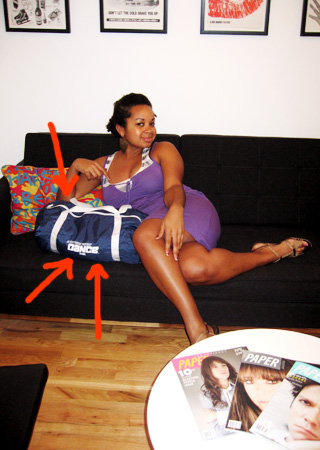 Hey, Take That-ers! First off, congrats to Caroline, who won the Matt & Nat bag!! Caroline wrote us a haiku, explaining why she wanted this bag and it went a little something like this:
Matt and Nat purse rocks/Like Switzerland in a bag/Brown, oh so neutral.
Beautiful.
Now onto this week's treat. We're giving away this gym bag that the kind folks at So You Can Think You Can Dance, our favorite reality dance show (Sorry, Dancing with the Stars!) sent our way. It's a lovely shade of navy blue, wouldn't you say? As usual, Blaire Huntley models the bag with grace and aplomb.