T-Minus Seven Days to See the Waterfalls!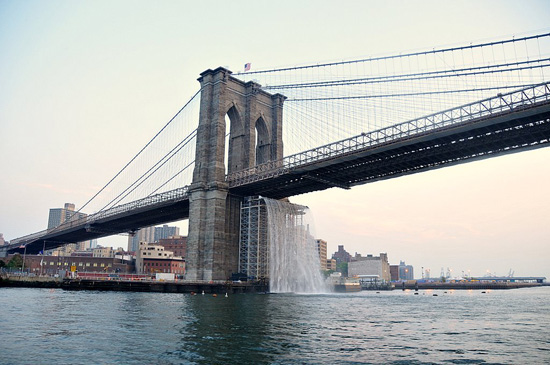 Don't miss the boat, like I almost literally did the other night, to see Danish-Icelandic artist Olafur Eliasson's waterfalls along the East River. The yacht Manhattan leaves for its sunset cruise from Chelsea's pier 59 at 6:30 sharp. And it was worth running for. First of all, the teak and mahogany vessel is beautiful and comfortable, not your usual tourist boat. I loved that a drink was included in the $50 price. The cruise lasts 90 minutes and takes you past all four waterfalls cascading from steel scaffolding, from Governors Island to north of the Manhattan Bridge. It's most definitely the best way to see this amazing public art project, the biggest since Christo's Gates in Central Park in 2005. You've got until October 13th. www.sail-nyc.com.

Added incentive: You can also get a gander at Julian Schnabel's pink Palazzo Chupi on West 11th Street.
Photos by Jim Knapp