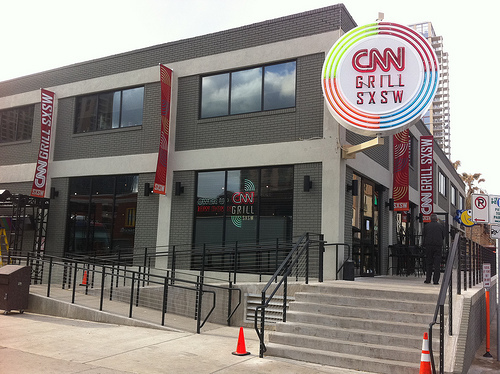 Papermag's down at SXSW this week, living in the very weird, very fun HP Mobile Park at Red River and Cesar Chavez St. We're chronicling all the fun at hpsxsw.com and hpsxsw.tumblr.com, and re-publishing some of the coverage here.

If you've been ambling around Austin these past few days, you might have noticed a massive neon sign that reads "CNN Grill SXSW." It's pretty hard to miss. Illuminating the downtown sky, it's a circular diner-style sign that rotates slowly promising some great things inside. And if you're lucky enough to have access (you mostly have to know someone or be press, but we bet if you're convincing enough, you can get yourself a day pass) you'll be greeted to a converted wine bar that now hosts chef Danny Meyer's Union Square Hospitality Group serving up delicious Austin-flavored food for free, all day long. On top of that, the place is outfitted with so many screens your eyes might bleed -- all broadcasting CNN, so you can step out of the hot Austin air and catch up on your news. Outlets line every table, for those who have to recharge at every pit stop. They've also got a stage set up for interviews that you might catch if you're here at the right time. If you're just here for the food, the menu's got a wide variety of tasty delicacies. For starters, we recommend the blue cheese potato chips followed by southern fried chicken with a vanilla milkshake (served with your very own can of Reddi Wip!)

"Power Up, Chow Down" is the running mantra. So don't forget your appetite...or your charger. You also might see some celebs floating around the joint -- we caught Conan O' Brien on his way out. As if perfectly on cue, the entire restaurant blew a fuse.