Paper Executive Editor Alex Swerdloff is at SXSW for the week, and she'll be writing little recaps and guides to all the craziness going down in Austin for those of us stuck at home. Try not to slip into a FOMO coma.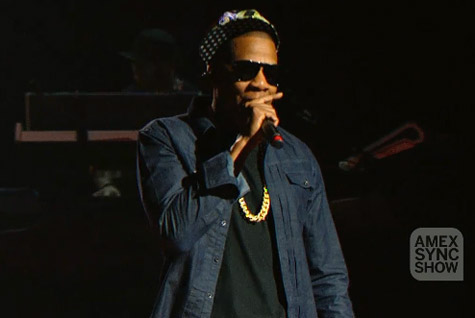 Yesterday afternoon, we flew (along with Anthony Bourdain, Matt Pinfield, Diplo and the Naked Cowboy -- party plane!) down to Austin for the
2012 South by Southwest Festival
. We were greeted with sun, chirping birds and oodles of 20-year-old-looking girls sporting ikat onesies clogging up the streets of downtown. Since interactive and film were winding down, and music was just getting started, it was a relatively tame evening of festivities. Here's what went down, and here's what's cooking...
WHAT WENT DOWN YESTERDAY
Jay-Z
played a 80-minute Amex/Twitter show at the Austin City Limits Live venue. "You had a beautiful time and I had a beautiful time," he told the crowd. [image via
Rap-Up
]
The controversy surrounding ad agency
BBH Labs
' initiative to use homeless people as wireless hotspots waged on. [via
NY Times
]
Girls
premiered to much fanfare, following an amazing review in the
Hollywood Reporter
. Lena Dunham and Judd Apatow hosted the screening, and Apatow said of the
Girls
' writing room: "There were no bongs in the room. No bongs or penises and they don't really like pornography. It was all very new for me." [via
PopWatch
]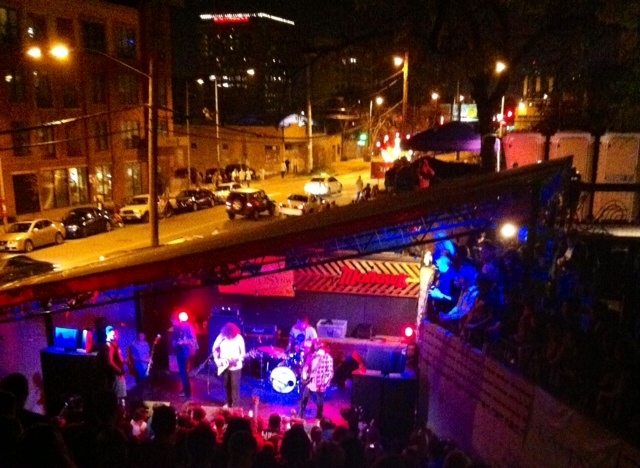 Kool Keith, Japandroids and Wavves (pictured above) played the Barbarian Group + Tumblr show at the Mohawk.
Sleigh Bells and Major Lazer played at the Nike Fuel/Vevo concert. 
WHAT'S COOKING TODAY
At tonight's
Warby Parker
-sponsored
Citizen's Circus
at the
French Legation Museum
,
Superhumanoids, Bleeding Knees Club
and
Yellow Ostrich
are joining past PAPER cover-peeps
The Citizens Band
. 
VICE's "Bands Under the Bonfire" concert at the Mohawk features White Denim, Bear Hands and Strange Boys.
Kasabian and Miike Snow are playing Media Temple's SXSW Interactive closing party tonight at Stubb's. 
Kool Keith plays again tonight at Beauty Bar.
Santigold, Chuckie and Theophilus London play the Warner Music Group party tonight at La Zona Rosa.
XXL mag is throwing its "Freshmen" show tonight with Kendrick Lamar, Danny Brown, Future, Hopsin and "special guests" at 1100 Warehouse.
Brooklyn Vegan
has teamed up with
Daniel Johnston
for a "Space Ducks" party at the
Belmont
featuring the likes of
Johnston, Jeffrey Lewis, Built to Spill, Motopony, Dinosaur Feathers and Kimya Dawson.