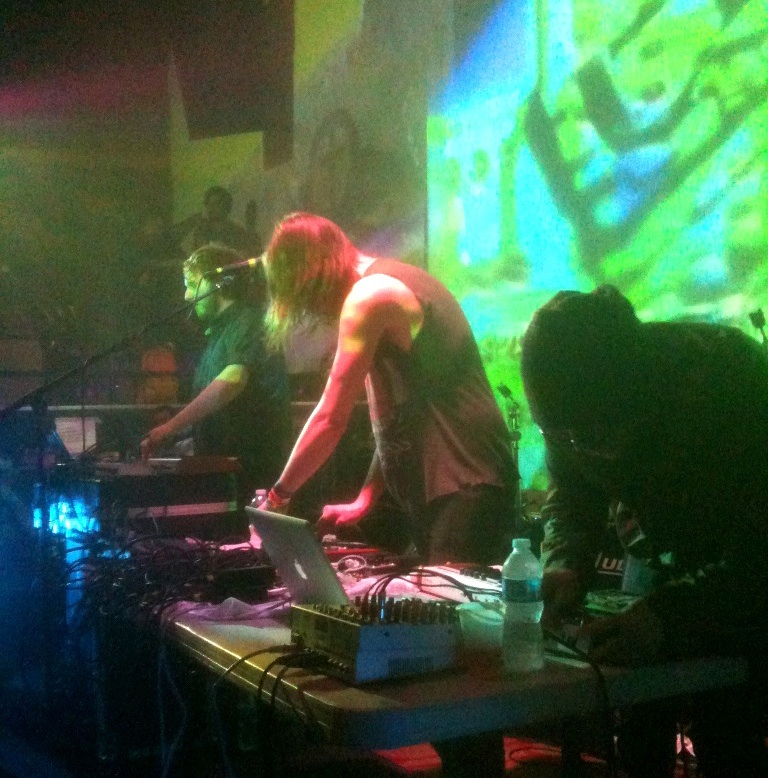 Of all the muggy sweat dens in Austin, Klub Krucial might have been the muggiest of them all Friday night. I rolled into the the
Gorilla vs. Bear
and
Mexican Summer
curated showcase during
Tamaryn
(think
Zola Jesus
if Zola Jesus was boring), and was shocked to find out they didn't have a fog machine running for the entirety of their set -- it was the humidity itself that had formed a rainforest-like mist that only the Predator could survive in.
But I was beyond glad I stuck it out to see the terrific
Ford & Lopatin
(formerly known as Games), who delivered one of the best sets I've seen here at SXSW.
Joel Ford
(of
Tigercity
) and
Daniel Lopati
n (better known as synth guru
Oneohtrix Point Never
) are collage masters of the highest order, fostering movement-forward assemblages that bang to body-rocking maximums. Though the band's EP
That We Can Play
possessed more of an experimental edge, Ford & Lopatin's MO last night was to deliver the stone cold jams, nothing more.
Props to whoever handled the projections, too. Across the long wall behind the stage were three separate projectors unspooling some wild images, which imparted a futuristic feel to the evening. Ford & Lopatin, putting their noses to the grindstone, delivered heady, groove-stuffed combinations of krautrock, funk, electro, R&B and more into their tight, wily set. Behind a plastic picnic table and entangled in more chords than I've ever seen at a live show, it's unclear as to how these guys pulled off such an impressive set. Aside from the fact that the sound in Klub Krucial was excellent, I'm just going to have to chalk this one up to magic and leave it at that.
It was kind of a shame that more people weren't dancing, but Ford & Lopatin are a rare electronic group in the fact that they're a lot of fun to watch -- constantly in each other's spaces, octopus-ing around with their equipment in a way that couldn't possibly produce music that clean and seamless. I immediately felt bad about bitching about the temperature inside after about two songs. This is some seriously hot music, and should be enjoyed in a congruous atmosphere.
--Zach Kelly