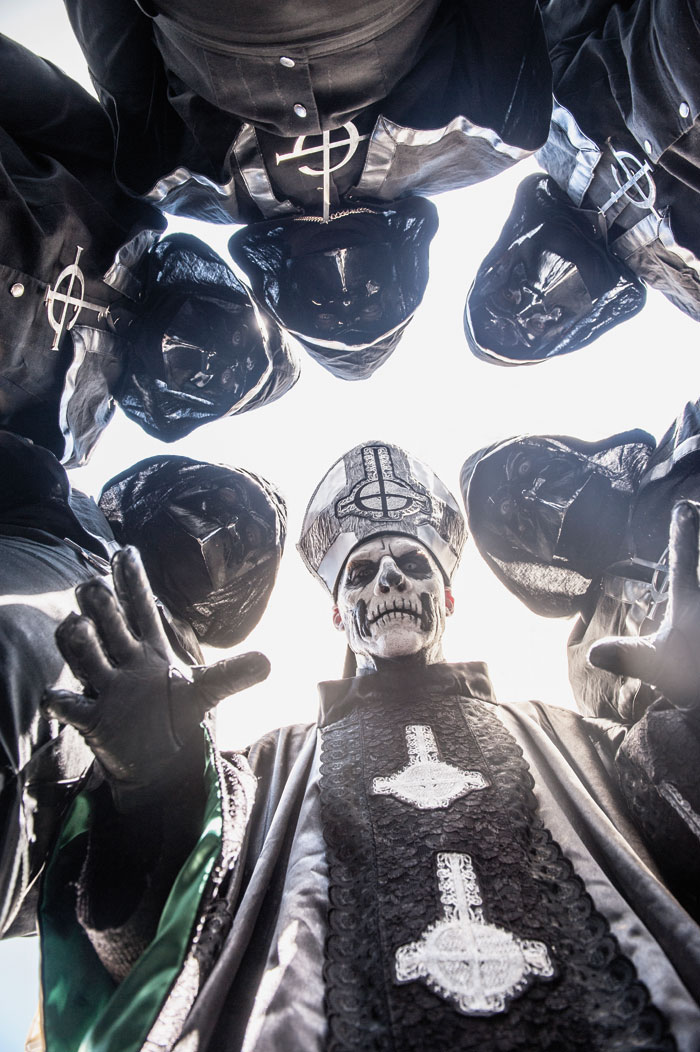 "Satanic AOR:" a combination unlikely to find favor with devil worshippers, FM enthusiasts, or just about anyone else. And yet that's how a member of Sweden's Ghost B.C. (the legally-mandated "B.C." is silent) described a song off their new album,
Infestissumam
, which scaled Billboard's Hard Rock and Tastemaker charts back in May. This is all the more impressive considering that five of the band's six members -- known only as Nameless Ghouls -- hide their identities behind black vestments and masks that look like they were stolen from
Sleep No More
patrons; singer Papa Emeritus II prefers corpse makeup, pointy hats and plenty of inverted crosses.
Infestissumam
, the follow-up to Ghost B.C.'s 2010 debut
Opus Eponymous
, is rich with curveballs and contradictions. The single "Year Zero" sounds like classic 1970s metal -- think Ozzy melodies and haunted-house organ -- set to the beat of "Dancing Queen." (And indeed, the band recently recorded a cover of ABBA's "I'm a Marionette" with Dave Grohl.) Our Ghoul, when asked about the song "Body and Blood," cited influences as far-flung as Television and Kansas. The melodies are often spectacular, as is the production. Somehow, Papa and the Ghouls have transformed a bonehead concept -- the presence of the Antichrist here on earth -- into something vastly more satisfying. If the Kinks and Gwar got together and remade
The Omen
, they might well end up with Ghost B.C.
As you can imagine, staying anonymous within an increasingly mainstream band is hard. So is sustaining a concept as specific as Satanism over more than a couple of albums. But if anything, Ghost B.C. is inspired by its constraints, and the Ghouls are already conjuring new ways to make the unholy accessible and vice versa. "However theatrical we are right now," the Ghoul told us, "it's nothing compared to the original idea. There is definitely more to come."
Mystery Band
Whether to attract or deflect attention, pop musicians have been obscuring their identities for decades.
The Residents
From 1974's
Meet the Residents
to this year's Mush-Room, these art-noise wackos have never revealed their faces, most often hiding them in head-sized eyeballs.
Zomby
Unlike his fellow dubstep pioneer Burial, Zomby has managed to keep his identity a secret as he's continued to release music. His latest,
With Love
, is out June 18th.
TISM
This Melbourne band, whose name stands for "This Is Serious Mum," usually performs in balaclavas, though one TV performance did reveal the names of the songwriters behind "(He'll Never Be an) Ol' Man River."
DJ UZ
Some think this trap DJ, who wears a gold mask, is Skrillex. Others have guessed it's Diplo. Either way, we're talking about him. Mission accomplished.