Surf's Up on Benefit Season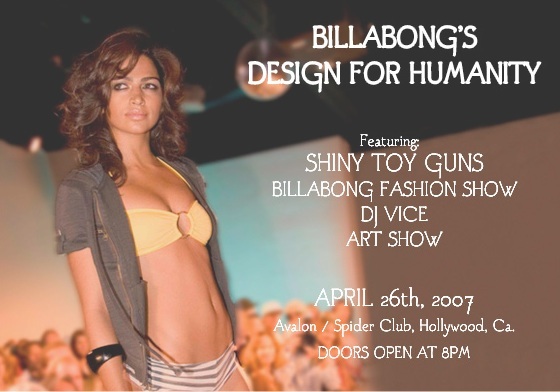 Tis the season for benefits. You'd be hard-pressed to find a not-for-profit that's not doing what it can to lure supporters to their star-studded events. Then there are others, like the surfwear company Billabong's charitable division Design for Humanity. This year, they're going all out to raise money for SurfAid International, a non-profit humanitarian aid organization that runs community-based health, education and disease prevention programs in village areas of the Mentawai Islands and Nias region of Western Sumatra where 25% of children die before reaching the age of twelve years from preventable and treatable diseases, including malaria, measles, tetanus, diarrhea and respiratory infections.
Tomorrow, April 26th, Billabong USA hosts an event in Los Angeles at the Avalon/Spyder Club in Hollywood. The beautiful thing here is that everyone can participate, as the entire event will be featured in a live webcast to be hosted at designforhumanity. The webcast will be approximately one and a half hours in length and will feature both the fashion, art and music components that can be purchased on Ebay as quickly as they appear.