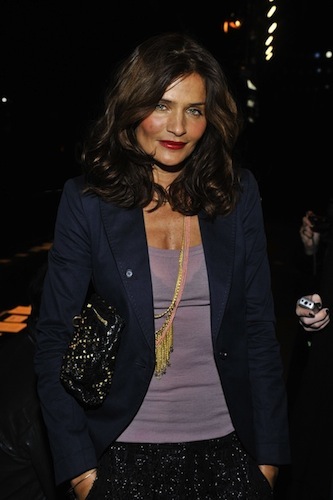 If walking down a normal runway in life threateningly high heels is no easy feat, then walking in those same heels down Pier 57's imposing autobahn-like catwalk must be a near-impossible task.  The massive space, where many shows have been held throughout Fashion Week, presents a particular challenge with a never-ending runway, one that gives models more time, more steps and more opportunities to slip, trip and fall.  
At the
Edun
show held there today, PAPERMAG caught up with supermodels-turned-front row elite 
Helena Christensen
and
Liya Kebede to see what advice the two had for beginner models.  Christensen acknowledged that though runway walking "would seem like such a normal and easy and natural thing...[it's] obviously a little harder when you're wearing heels."  She added, "you're kind of in the spotlight and you know everyone is staring [so] then mentally, it kind of screws with you."
"I think if you just listen to the music and just zone into your little world in your head and just cross your fingers, then it'll be fine," Christensen said when asked what tips she had for first-time catwalkers.  
"I have tripped, yes.  Never fallen but stumbled," Kebede said.  "You just have to laugh it off and keep walking.  It's not a big deal.  Everyone sort of understands and doesn't really take it seriously.  It's alright."
For her part, Christensen cited the perils of loose shoes.  One of her most disastrous moments involved "shoes falling off."  The supermodel said, "It seems like such a small thing but you walk down the runway and one shoe falls off and you have to walk on one heel with the other shoe dragging after you.  Or you take them off because you have to do that too sometimes."
But, like Kebede, Christensen advised young models to take it all in stride. "You just smile. Everyone knows that this can happen so you just smile and keep walking.  No one's gonna kill you for it."