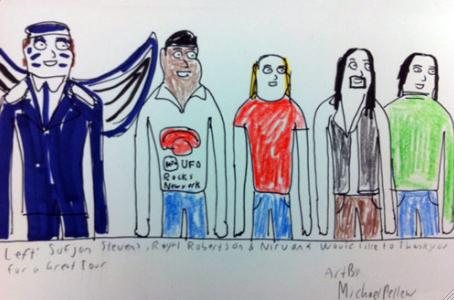 Artist
Michael Pellew
's greeting cards are
exactly
what we love.
His "Celebrity Sightings" series, squiggly drawings of hilariously grouped-together famous people -- like the cast of
Seinfeld
in goth wishing you a Happy Hannukah (that one's framed in my bedroom); Eliot Spitzer, Miley Cyrus and Gene Simmons wishing you a Happy Birthday; the Jackson family wishing you a Happy Kwanza; The Cure's Robert Smith, Marilyn Manson & Siouxsie Sioux wishing you a Merry Christmas; and Mayor Bloomberg and Metallica welcoming you to New York -- are pure genius. The cards have been sold at Opening Ceremony, our very own Mr. Mickey's annual Art Jamboree and at
LAND
studio in DUMBO, an art space generating and showcasing the art of adults with developmental disabilities, where autistic artist Pellew makes his amazing pieces. (He also has a fascination with New York City transit history, and his series of vintage subway and buses are quite neat, too.)
Anyway, we were delighted to hear that
Sufjan Stevens
,
who just played two big shows in Prospect Park
, has commissioned Pellew to create 30 "Celebrity Sightings" thank-you cards for the members of his crew and band, which read: "Sufjan Stevens, Royal Robertson and Nirvana would like to thank you for a great tour." Robertson, an outsider artist, inspired Steven's new album,
The Age of Adz
, and Nirvana is... just Nirvana. Also note Sufjan's wings, which he wore on stage last night in Prospect Park. Apparently he became a fan after seeing Pellew's work at
I-20 gallery's "MAKE Skateboards" show
which opened two weeks ago in Chelsea.
All this is to say, if you needed more proof that Michael Pellew is amazing, and that you should run and buy his art (which you can do at LAND, 67 Front Street, DUMBO), well, here you go.