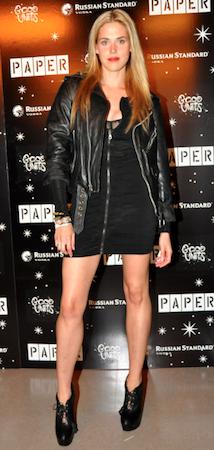 The guests at last night's Nightlife Awards pulled out all of the stops on the style front. We chatted with some of the party's best dressed attendees about their looks. Check out our full report on the evening's festivities here. 
Who:
 Byrdie Bell, 
actress
Who are you wearing tonight? Rag & Bone dress, Christian Dior shoes, and a leather jacket from Search & Destroy
What's your favorite NYC hotspot to see inspiring style? Lately I've been really inspired at Don Hill's, but another one of my favorites is Sway, which is actually right down the street from there. 
Do you have a go-to going out piece? My Rick Owens leather jacket

How long does it take you to get ready to go out? Ten minutes.
Do you have a nightlife style philosophy? Recently I've been trying to look sexy, which is a very new thing for me! But comfort comes first always.