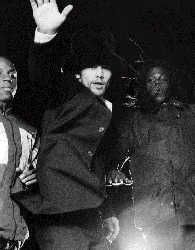 It's one of the last warm nights of fall, and hundreds of Barneys-dressed rich people are stumbling around the Louis Vuitton party at Rockefeller Center, creasing their knees in a stuporous uptown boogie. The skating rink has been transformed into a sort of Epcot disco, with the luggage czar's insignia in plum and ivory projected onto the towering Art Deco buildings surrounding it. In the middle of it all, beneath a gold-monogrammed "LV" hat, is the cosmic party person himself, Jamiroquai's Jay Kay. At this moment he's getting down onstage with a magnum of Mo?t, teasing and refilling the flutes of blondes with plunging necklines.
Idolized by vibe tribes of nostalgic Deadheads, gear heads and stoners, the waifish bloke's pop pedigree seems lost on this otherwise discerning crowd. The 28-year-old Brit funkster-both revered and scorned by the masses for styling his vocals after Stevie Wonder and ripping off the jazzy grooves of 70's soul and disco-has sold over 10 million records worldwide. But for all Jay Kay's worldly wiles, he's had a hostile reception in the U.S.-until last March, that is. That's when MTV plugged him as their multicultural poster boy and relentlessly aired his motion-sickness-inducing "Virtual Insanity" video almost as often as those annoying Taco Bell commercials. So when Kay and his crew sauntered offstage at the MTV Video Awards last September with four trophies-dusting critics' darling Beck-rock pundits clenched their fists, then stared with gaping jaws as sales for Jamiroquai's third album, Travelling Without Moving (Sony), soared.
"I've had a bloody good year, haven't I?" Kay says later in his spoiled Austin Powers drawl while lounging barefoot on the couch in his Manhattan hotel suite. A stream of his band members, sporting dreadlocks, Adidas jogging suits and aero-dynamic club cuts, wade through the thick pot smoke, appealing for spending money and gorging on half-eaten cheeseburger platters. At first I don't even recognize Kay without his silly hat on, but soon I'm hip to what his string of girlfriends-from Winona Ryder to English lingerie model Tamsin Greenhill-already know. He may be short, but he's unmistakably sexy as he leaps over the land mines of shrimp cocktail and tartar sauce, telling jokes and busting freestyle imitations of Grey Poupon snobs and breathy young girls.
"Did you write 'Cosmic Girl' for me?" Kay asks in a high-pitched, psychogroupie tone. "I hate to disappoint you," he replies, "but I wrote it for everyone and for me. You are not the Cosmic Girl, alright?" I ask him about the society girl backstage at Louis Vuitton who nearly tackled him in a drunken attempt to create a photo-op. Kay considers this: "I'll admit that the Louis Vuitton gig was a bit corporate," he says. "But look here...." He disappears, a second later dragging six pieces of new, leather-scented luggage into the room. (There's even a full-sized hat box.) "They paid us a hell of a lot of money for a 45-minute set! And..." He folds his hands smugly on the trunk and says in TV-commercial speak, "Luggage like this makes packing a pleasure."
Ever since Kay graduated from skateboarder punk to full-blown rock star in 1993, when Sony set him up with a lucrative eight-album contract, the press has repeatedly pummeled the soulful vocalist. After the release of Jamiroquai's debut LP, Emergency on Planet Earth, the British music tabloid Melody Maker even held a contest daring housewives to tell the difference between J.K. and Stevie Wonder. And then there was the infamous headline from London's The Evening Standard that seethed, "Exposing a Double Pop Scam. J.K.: young, stupid and white."
But the most irksome constant of Jamiroquai's career has been his half-baked social philosophy, which includes lots and lots of weed, environmentalism and a vague "feed the poor" mantra slapped atop a penchant for things trendy and luxury cars (he'll blab tirelessly about his automotive collection, which includes such exotica as an Aston Martin, a Lamborghini and a Ferrari). The cover of Travelling Without Moving, after all, shows a Ferrari symbol with his trademark "Buffalo Man" logo-or "Medicine Man," as some fans call it-in place of the Ferrari dragon. And despite Curtis Mayfield cautionaries about "useless, twisting new technology," most of his videos are of the Sir Mix Alot car-wax 'n' booty variety. In his video for "Alright," when Kay rolls up in his purple Lamborghini (the one he samples on the album's title track) to party on the dance floor with a bevy of bodacious babes, concerns about seals, whales, rain forests and the revolution are checked at the door.
Still, when I ask about his sci-fi-apocalypse song, "Virtual Insanity," Kay seems momentarily distraught with the state of the world. "Millennium shopping market, millennium Ferris wheel," he expounds. "Why don't they spend money giving people homes and making the place green? If they want to improve the environment, they know how to make cars these days with an electric battery that zips you around town, and when you get on the freeway, you revert back to your...you know....
"You know what I really hate?" he continues. "Packaging! Unnecessary packaging." Now he's a Beverly Hills 90210 Robin Hood lobbing salt and ketchup packets and plastic knives into the air. The guys in the band giggle and tinker with toy airplanes and bubble guns they copped on a recent FAO Schwarz spree. Kay manically peels open a bar of soap. "Look at all this! Pretty print, keeps the shape, indeed it works! They said at our hotel in San Francisco that they had good-quality shampoo and conditioner and something to wash your body with. I mean, people are tripping out 'cause they have to have their sheets changed everyday. It's bullshit. Bloody bullshit!"
O.K., so the guy's just happy, or stoned, or happily stoned. And why not? He's had a pretty "top" week in New York so far. In addition to the Vuitton heist, Jamiroquai played Saturday Night Live's season premiere, landed several dates on the Rolling Stones tour and Busta Rhymes asked to warm up their sold-out gig at Madison Square Garden's Paramount Theater. (So what if he only rapped for 15 minutes and most of the black kids bailed after his set?) But what really sealed the trip was that Kay, by some divine intervention, got to meet his beaded maker, Stevie Wonder!
The holy union, Kay recalls, took place backstage at MTV during the taping of Babyface's Unplugged session. "I said to him, 'I'm that guy you must keep hearing about; the little white guy who's copying your stuff,'" Kay recalls. "He started humming 'Virtual Insanity' and said, 'No, man, you're doing it.' I says, 'Let me do a cover of "Golden Lady,"' and he said yes! I ran outside and punched the air like 50 times and then sat in the corner in tears." Kay shakes his head. "It was a great day."
Stevie Wonder says that while his style is unmistakable in Kay's songs, he feels flattered, not robbed. "It would be different if Jay said he'd never heard of Stevie Wonder, and I'd say, 'Well, you know, that's some shit!'" Wonder reasons. "But music is something God has given us as a gift that we can all enjoy. If fact, I have a song I never released that I was thinking would be perfect for him."
Jay Kay just may be the world's ultimate couch crasher. A skater in emperor's Pumas, he has a deft skill for being at the right place at the right time-a craft honed perhaps in his formative years, when he was an indentured roadie for his jazz-singer mom, sneaking out of hotels in the middle of the night to evade rent collectors. (Kay has never met his Portuguese father.) During the late 80's, when acid jazz was all the rage in London's clubs, Kay bided his time as a street hustler and agile skateboard lookout for graffiti artists. (Kay says skating is where he got most of his fluid dance moves.) After bombing an audition to be the lead singer of the Brand New Heavies, young Kay started Jamiroquai (a name taken from his love of jamming and the Iroquois Indians). Their first single, "When You Gonna Learn," released on Brit indie Acid Jazz, brought the major labels scrambling.
Miraculously, Jamiroquai managed to survive the acid-jazz crash of the early 90's, when kids traded mellow sounds like the Brand New Heavies, Young Disciples and Guru for the bed-of-nails wails of Nirvana, Soundgarden and Pearl Jam. But somehow the slippery little leprechaun escaped the purge. "They didn't change the music enough to push it through to the public," he says of acid jazz's demise. "Let's face it: if we get too jazzy, we wouldn't get the audience we need."
And Kay is not taking any chances when it comes to success. His "We Are the World" band is so politically correct it hurts. There's a Nigerian bongo player, a white, Dust Brothers?style DJ, a hippie keyboardist and a dreadlocked didgeridoo player. Even Jamiroquai's music seems to have drifted further into New World Order. On the all-genre-inclusive Travelling Without Moving, there's a drum 'n' bass track, a cruise ship reggae number and a disco song featuring Donna Summer?esque dance loops. In a way, you have to hand it to Kay, seeing as Puff Daddy just raps over samples.
"We're aiming for hits," he says. "'Cause a hit is like Earth Wind & Fire, like in the 70's, when people had strings of hits. What we're trying to do is get around to a stage on the fourth album [which they'll start working on in December] where we'll do stuff that's exactly what we want to do and that also makes the record company happy and then everyone is really happy."
Jamiroquai's keyboardist and cosongwriter, Toby Smith, who's sitting next to Kay, seems to vaguely understand how the sell-out implications might fall flat on American ears and attempts a rescue.
"What he means is: We do what we want to do and we're happy. And it makes the record company happy because they've got no choice. Because what we do works for them."
"No, that's not what I mean," Kay's face flashes from exasperated to confused to bored, and then he throws his hands in the air.
"I don't bloody know! I just sing the songs!"