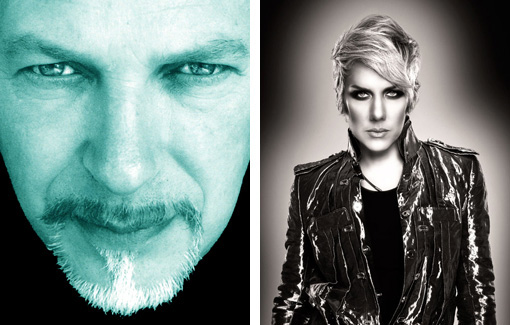 Downtown deity Miss Guy -- member of beloved punk glam trio The Toilet Böys and a regular in many a DJ booth around the city -- knows his music, and PAPERMAG couldn't be more excited to announce that Guy will be contributing regularly to the site about artists he has his eye on.
Here, Guy speaks with Siouxsie and the Banshees co-founder, bassist, and songwriter Steven Severin. The punk icon will be making his American debut for "Music for Silents" in New York City on Oct. 10 at Le Poisson Rouge, performing a live electronic score to a screening of the 1928 French surrealist classic The Seashell and the Clergyman -- as well as other live soundtracks to short films produced by emerging avant-garde filmmakers from around the world.
Miss Guy: How did you come up with this idea?
Steven Severin: I've wanted to do new scores for silent movies for a really long time. I've seen people do this in the past, in very "starchy" settings, so my aim was to make it a bit more noisy and "in your face." I couldn't wait around to be commissioned, so I just set out on my own, attempting this "cine-gig" idea.
MG: What inspires you these days?
SS: The same things that have always inspired me: Anyone from any discipline that follows their own vision with wit and style, without being concerned by the opinions of the self-appointed mandarins of fashion and taste.
MG: Who are some of your favorite bands past and present?
SS: The list is endless so I'll concentrate on New York City: The Velvet Underground, Suicide , Glenn Branca, Television ,Teenage Jesus and the Jerks, Sonic Youth, Swans, John Cale, Steve Reich, FischerSpooner .
MG: And you favorite movies?
SS: Last Year at Marienbad or Toy Story, depending on my mood.
MG: Are there any filmmakers and/or musicians you'd like to collaborate with?
SS: I don't really think ahead in that way. I've been blessed already to have worked with some incredibly talented people like John Cale, Alan Moore, Robert Smith, Lydia Lunch, and The Tiger Lillies. If David Lynch rang, however, I'd take the call.
MG: Are you excited to do this show in New York? Any places you haven't been to that you'd like to take this?
SS: Of course I'm excited—it'll be my first North American solo show. I can't wait. And I need to take "Seashell" to its birthplace—Paris—before I'm done.
MG: What are a few of your fondest memories of the early punk scene and putting The Banshees together? And what was your first visit to New York like?
SS: It's a very strange feeling to have some of one's—as you say—fondest memories appropriated into the public domain and replayed and analyzed over and over again. I'm thinking of something like the "Grundy" incident, which is now cemented to popular history, almost in amber. In order to reclaim those memories I'd have to dig deep into the specifics and I don't have the time or space here to do that. I'll save it for the autobiography, rather than for the casual reader, if you don't mind.
As for The Banshees, we arrived in New York much later than we should have and there were several reasons for this. The US division of Polydor initially refused to release The Scream and it was only after extensive radio play of the import version that it was finally released. Consequently, the timing was out as we had nothing to come over and promote. We were offered CBGBs, but wanted to come in at a higher level and deliver a similar level of production that European audiences were being given.
The second album Join Hands was rejected completely by Polydor US, so again we had nothing to springboard from. Shortly afterward the original band disintegrated, so we had to rebuild before finally arriving in late 1980. In one sense that was good because we'd reached near-mythical status by the time we hit New York City. The tragedy is that the US never got the opportunity to see and hear the original Scream lineup. I deeply regret that.
MG: Can you tell PAPERMAG readers a little about what they can expect at your show? Will you be meeting fans afterward?
SS: Well, it's me in the dark with my laptop and surreal and sexy films. Think of me as a 21st-century accompanist, but instead of a piano I use the computer keyboard. I don't think I have plans to "leave the building" straight after the show, so I'm sure people will have the opportunity to say "hi" if they want.
Steven Severin performs to "The Seashell and the Clergyman" at Le Poisson Rouge on Saturday, October 10, at 8 p.m.