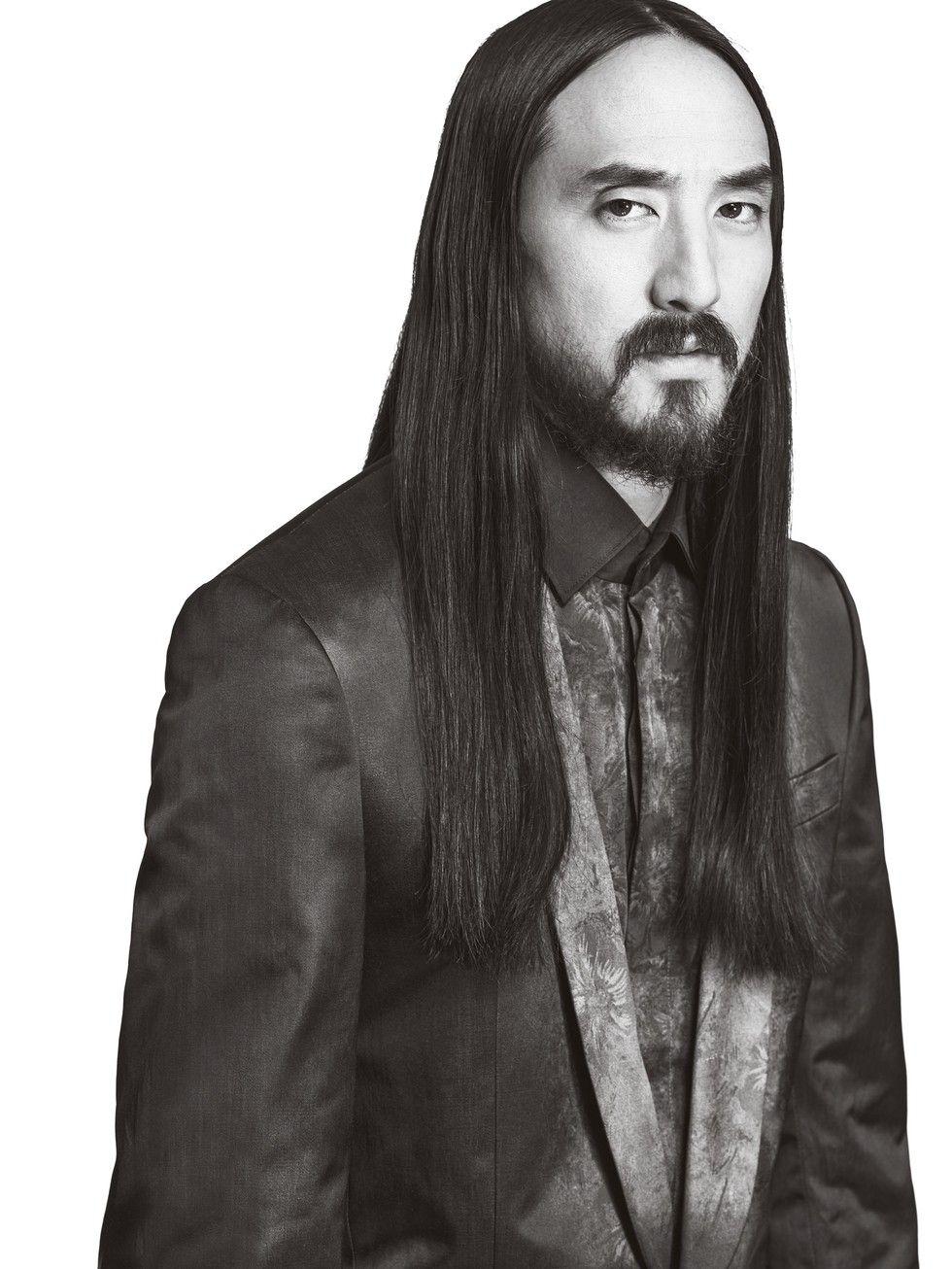 Steve Aoki wears a suit and shirt by Diesel Black Gold and shoes by Dior.
In two months, Steve Aoki says he'll reach "the biggest pinnacle of the journey I've been taking," a reference to his headlining gig at Madison Square Graden on August 16. It's a journey that began over twenty years ago when a teenage Aoki, the son of Benihana founder Rocky Aoki, discovered L.A.'s hardcore scene. It would lead him to eventually become the frontman for a punk band called This Machine Kills and intern at DIY label, Ebullition Records. From there, it wasn't long before the 37-year-old producer -- then still in college -- changed lanes and founded Dim Mak records, the influential indie/electro label that has broken bands like The Gossip, Bloc Party and, most recently, The Chainsmokers. As Dim Mak's profile increased, Aoki also began making a name for himself in L.A.'s nascent electro club scene with weekly dance parties at Cinespace and Banana Split at LAX, the latter of which he threw with the late DJ AM. While he'd been DJing since college, it wasn't until 2005 that Aoki tried his hand producing; his first track was a Bloc Party remix. 

This was a full four years before EDM as we officially know it entered America's  mainstream via the Black Eyed Peas' David Guetta-produced smash "I Gotta Feeling." Back then, Dim Mak and Aoki were firmly aligned with an electro scene that included producers like Justice, Boys Noize and MSTRKRFT, who considered themselves distinct from the producers pumping out dance music of the house, techno, and trance varieties. But it wasn't long before the lines between electro and dance music began to blur and Aoki's sound evolved.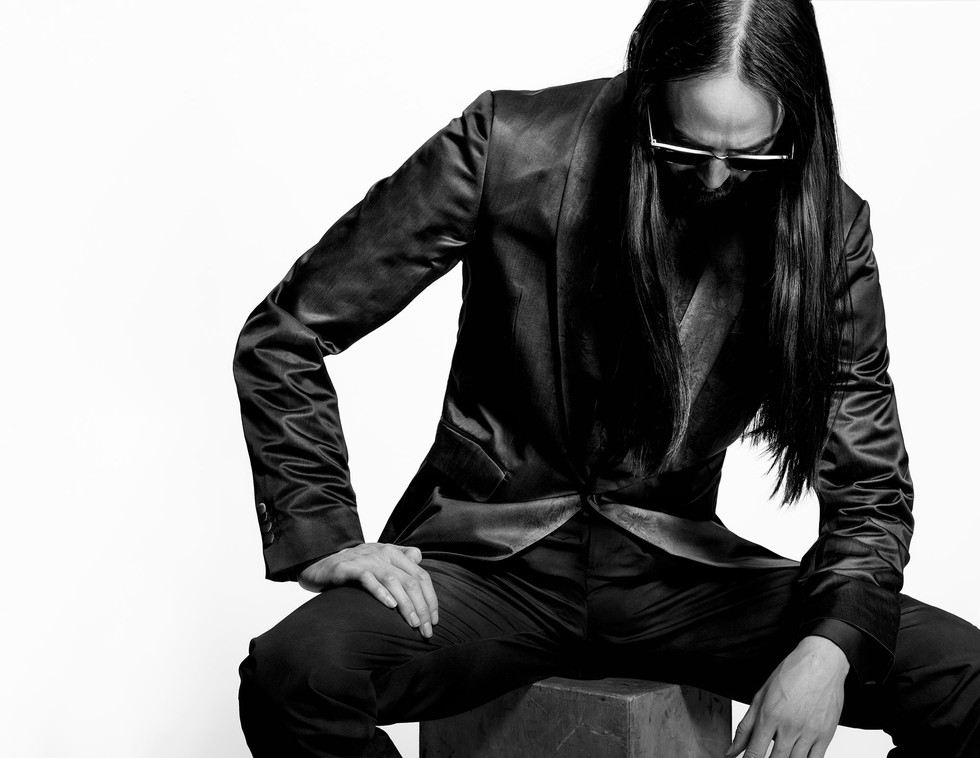 Steve Aoki wears a suit and shirt by Diesel Black Gold, shoes by Dior and sunglasses by Ray-Ban.

Fast forward to 2014 and he's now one of the U.S.'s most visible dance music forces, regularly hopscotching the globe to play residencies in Ibiza or Las Vegas. And for someone who's managed success outside of the mainstream music industry, it's a testament to not only dance music's popularity but also Aoki's knack for keeping his finger on the pulse that the producer will be headlining MSG in support of his forthcoming album,
Neon Future
, which will be released in two installments -- the first on August 12th and the second sometime in 2015.  
The album has a wide variety of featured guests, from Fall Out Boy to Will.I.Am, Empire of the Sun to Waka Flocka Flame (who appears on the record's first single, "Rage the Night Away"). And, according to Aoki, an even wider variety of featured guests will appear in a "companion interview series on YouTube," a series that will flesh out Aoki's conception of what exactly a "Neon Future" means.  
"I interviewed this man Ray Kurzweil who is behind the idea of singularity or where humanity and biotechnology eventually meet...[it's] immortality and things like that," Aoki says. Besides Kurzweil, the producer has already talked to Arianna Huffington about the future of media and Grateful Dead drummer Mickey Hart about work he's doing on rhythm and the brain and says he also plans to chat with Sean Parker, Rick Rubin and Marvel Comics' Stan Lee, among others.  
"Whether it's with this album or through introducing these people doing incredible research, I want to constantly introduce new sounds, new music, new culture and new technology," Aoki says.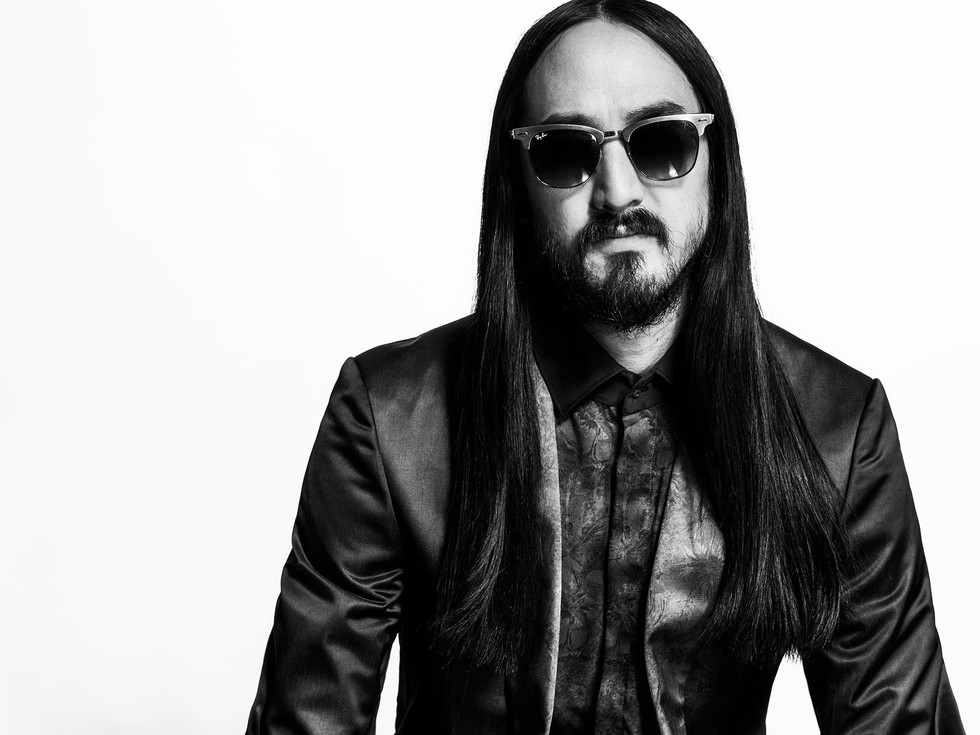 Steve Aoki wears a suit and shirt by Diesel Black Gold, shoes by Dior and sunglasses by Ray-Ban.

But while Aoki hopes fans listen to the album and watch his interviews, one of the most important pieces of his music, he says, is the live show. "When I write music, it's like, 'Ok, if it gets on the radio, that's great but it's meant to be lived,'" he explains. "When fans see me in concert and experience something that they then want to relive in their own places -- that's what's so exciting."  
And it's true.  
It's one thing to listen to Aoki and Waka's kinetic single "Rage the Night Away" but it's another thing entirely
to see it performed live
during a set that may include other Aoki signatures like throwing cake at the audience or stage diving into an inflatable raft or trampoline. Because through it all, you can still catch a glimpse of the anarcho-punk spirit in Aoki's uninhibited live shows, a holdover from his hardcore days. Like a punk band frontman, Aoki commands his audience with a mixture of talent and antics and he wants to give his fans a real show. He's excited to have reached a point in his career where he's able to perform -- and not just spin records on a turntable. "DJs have always lived in clubs but now, for me, my glory isn't in clubs. It's in playing for real fans that are not there for the alcohol or for socializing or for anything but the music itself." 
And fans are flocking because although the meaning of the term might have changed in the 20 years since he screeched in This Machine Kills, Aoki still knows how to rage.


Styled by Timothy Reukauf

Grooming by Marcel Dagenais at LVA Artists for Evo Hair Care
MORE OF THE MOST POWERFUL DJs IN THE MUSIC BUSINESS