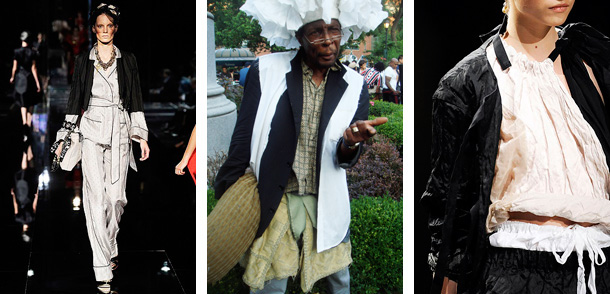 This flamboyant man I spotted in Union Square caught my attention when I heard him boldly, yet jokingly, taunting anyone and everyone within ear shot, "Have you every seen a homeless man in couture!?" Clearly, he was homeless. However, he, like the lead character in Mike Leigh's Happy Go Lucky, was making the best of it on this day and at this moment. It makes me wonder what Mayor Bloomberg will promise him and all the other homeless people in Manhattan during his third term run. I wonder in what form their bailout (or rescue) will come. Have you noticed on 34th Street nestled in the dead of night between skyscrapers near Penn Station and Madison Square Garden that a colony of about 100 homeless people have gathered together in the dimly lit courtyards to sleep? Not since Tompkins Square Park in the early '90s (the park was then called Tent City because of the homeless dwellers), had I seen anything like this in Manhattan.

Being homeless somehow tends to equal being invisible, but this man fought to be noticed by exposing his artistic/funny side like a fashion comedian. In fashion, one tends to perceive overly layered looks that play on conflicting lengths and contrasting texture as "a bit homeless." I, of course, have seen the apparently "fake" homeless woman who works the corner of 57th and Fifth Avenue (while she actually lives comfortably in a classic six near 64th and Fifth), shivering for coins in those amazing blackish-green trash bag confections that could remind one of Cristobal Balenciaga meets Comme Des Garcons. And I have witnessed a leggy "Naomi"-esque homeless man do some very interesting things with a bath towel and a belt (a strapless mini effect) that reads Versace (the Gianni days), all while working the street like its his own personal catwalk in high heels and a wig. But this guy, pictured here, was perhaps the first homeless man that sported "street couture" (a term I usually save for hip-hop skate kids) that I can remember.
In his white diaphanous hand crafted toilet tissue bonnet (very Queen Mum meets Church Lady….have you seen the coffee table book Crowns?) that could challenge any hat on a Marc Jacobs spring runway; a layered white-ish cotton sleeveless/collarless shirt as vest over an oversized black three button wool blazer (giving the look an inside out feeling); a printed Prada/Dolce-like pajama top tucked into a self draped overskirt of a pale green pillow case and butter yellow tapestry (that could also work as a blanket); and with his Benjamin-Franklin-style squared specs, he is a homeless hautie.
So, after luring him over to me by offering him $5 to get a better look at his style statement, I asked him if I could take his photo. He proudly found a spot in the park that would best showcase his creation. "Let me stand over here because I don't want nobody else in MY picture," he declared. After our photo session, I gave him a chocolate bar and with spot-on comedic timing, he asked, "Will this chocolate give me the shits? Well, if it does I will use my hat to wipe my ass."