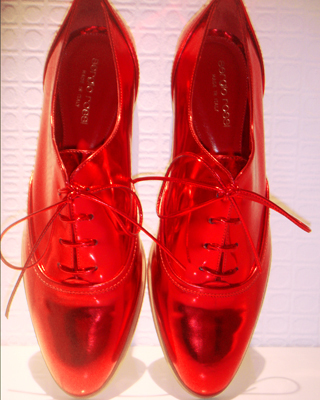 This is the moment for a true surreal shoe. And not a chunky-clunky warrior weapon shoe or Bjork's swan dress (which I loved) in shoe form -- but a shoe that truly challenges and slightly tricks the eye, and doesn't just renegotiate the portions of the leg. Marc Jacobs and Prada have stunners that would make great book ends, and Martin Margeila is the king of the concept shoe, but Sergio Rossi's creations by their creative director Edmundo Castillo wins the gold medal this season. Mr. Castillo once pronounced "The shoe is like make-up for the feet" or something like that.
I first spotted these phantasmagorical shoes this past September during Milan Fashion Week. I find them conceptual and wearable -- the mark of good designer fashion to me. For example, his lace up oxfords -- which were not created with predictable Dorothy- click-your-heels-three-times sparkling ruby-red crystals -- are perfection in red mirrored leather ( he did them in copper for Narsico Rodriguez's collection for spring) and would have been ideal on the late Tina Chow. Known for her out of the box fashion choices, she would have rocked them with the darkest midnight blue men's slouchy suit with no shirt, no jewelry whatsoever, alabaster skin, jet black hair and YSL red lipstick... and maybe blood red nail polish to drive the message home.

Also, the pinstriped, dripping paint shoe is very Dali meets Apollonia 6. The tricolored wedge in oranges, yellows and bleached wood (this silhouette was done for Behnaz Sarafpour's spring show in chic blacks and browns) feels like a yacht blended with popsicles, and the red and gold ball shoes are dangerous and ultra fab!
Sergio Rossi has a brand new boutique on Melrose in Los Angeles. I heard Mr. Castillo is once again collaborating with Narsico and Behnaz plus Vera Wang on their Fall 2008 shows in New York. However, for a true surreal fashion moment, pop into the Sergio
Rossi's Fifth Avenue shop and say hi to shop goddess Gizelle, the former runway star of the mid-'80s and early '90s. You will love!