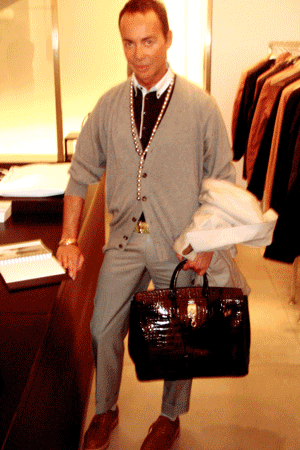 This is Lakis Gavalas, a majestic 56-ish "guru of fashion" from Greece. Every so often you witness someone who happens to be so comfortable with him or herself in a way that you can't help but be intrigued by -- in a "I can't believe you exist" kind of way. Lakis was one of those people for me. With the grace of a seasoned Martha Graham-trained dancer and the self assurance of a male Diana Vreeland, it looks as if perfume fragrant air magically follows him around and lavender rose petals fall to his feet with every gentle precise footstep. But as unapproachable as he appeared, Lakis is one of the most endearing "charmsters" I ever met. His charm and style will someday make a great how-to guide.
I spotted Lakis while having lunch with designer Edmundo Castillo at The Four Seasons Hotel on Via Gesu during Milan Fashion Week, Feb. 19th at 12:44 p.m. With my back to the entrance and facing the exquisite garden, it was Edmundo who advised me to turn around and look at what was coming through the door (only as a fashion person would suggest). My first thought was, "who is she?!" This guy was carrying an enormous Hermes Birkin bag in alligator (or what is the Hermes Kelly Lakis), which must have cost about $50,000. I was pleasantly amused.
Then several hours later, at the Jil Sander boutique on Via Verri Pietro I spotted the Birkin bag coming down the spiral staircase to the men's area of the shop. Stunned, I examined him closer, noticing that the exaggerated necklace that framed his suspiciously youthful face was not made of metal balls as I imagined. They were gumball-sized-pearls gradating from dark grey to pure white, customized by Cartier. "I had Cartier attach two strands of 18 pearls for me," he eagerly confessed. That's 32 oversized pearls in total, resembling a rosary. Then he continued telling me that he had them section off each individual pearl with bright Cartier red thread. But the fun does not stop there. On one wrist, Lakis had the Cartier Trinity bracelet that symbolizes faithfulness, friendship and love. On the other wrist I discovered a yellow gold, black-faced Rolex dripping in rubies, sapphires and baguettes. "I don't like diamonds," he declared. And as a subtle accent to the subtle time piece (worth approx. $500,000 I'm sure) was a slim tennis bracelet made entirely of sapphires and baguettes (not cheap).
With his chartreuse Hermes belt, his accessories seemed to have been the star of the show, however the clothes were not a supporting act -- though they brilliantly played the straight man. His functional, khaki-colored topper from Hermes and his impeccable grey, deep-cuffed, peg-legged trousers showed off his Comme Des Garcons, woven, butterscotch shoes and deep gray, boucle, wool doily of a sock that reminded me of a Prada sweater for the feet… plus, the appropriate grey cardigan made me question who came up with the silhouette first -- Lakis or Thom Browne? Oh, and did I fail to mention that Mr. Gavalas has a vibrant tiger tattoo that "prowls" down his upper arm?
The very next day I spotted Lakis at a fashion presentation where he was deep in conversation with a PR person. Just as I lifted my camera to snap a candid photo of him, within a millisecond, he turned to me and struck a fierce pose. WORK!! Once again, his look did not disappoint. Today it was very "lad-dies who lunch" meets 1960s ad exec on an S&M; ski slope in Aspen. He was wearing a stop-light red glossy Moncler vest over a rich bitch grey suit ensemble with a deep cuff trouser (Thom Browne, I'm seriously starting to question your originality.)
He carried his 30-year-old Hermes Constance bag (made famous by Jackie O.) with customized chrome hardware; oversized jawbreaker-sized white pearls with his signature red threads, again customized by Cartier; bondage-style black combat boots with a rear zip; and that same black-faced watch from the day before. "Mick Jagger will be angry," he said as I photographed his wrist candy with an emerald bracelet with gems the size of planet Krypton, "because he has the exact same one." When you're this confident, dropping names is as effortless as breathing air.