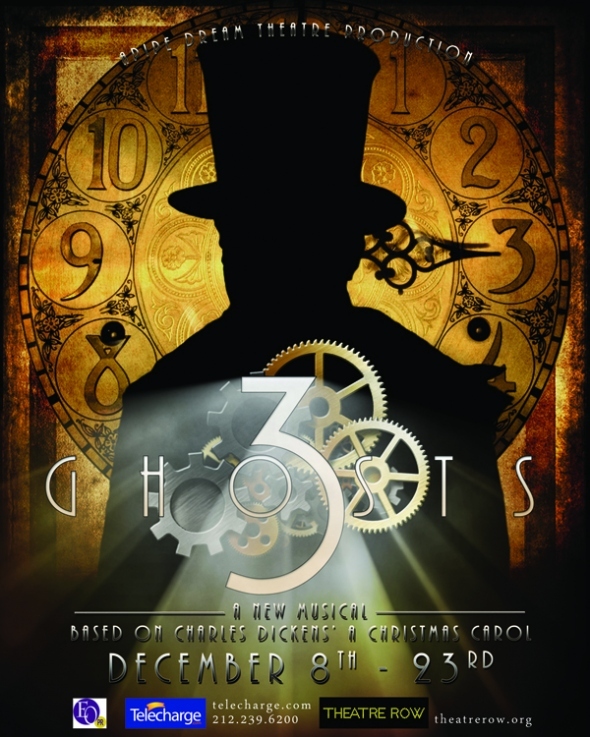 It wouldn't seem like December if there weren't any Christmas shows. 
Pipe Dream Theatre
brings the New York premiere of
3 Ghosts
, a "Steampunk Musical" based on Charles Dickens'
A Christmas Carol
.  The music is by Collin Simon, lyrics by Liz Muller, book by Muller and Simon, and Muller directs. This then is a re-telling of what is, perhaps, the most well-known of the Christmas tales, but Pipe Dream has some surprises in store for us.  I spoke with the very charming
lyricist Liz Muller
. 
Hi Liz.  Do you mind if I first ask you to tell me what "Steampunk" means.  I've seen it used about, but I don't really know what it means.
It's a whole genre.  Our version of Steampunk is a combination of the Industrial Revolution and the Victorian Era, WW II, and a little bit of futurism.  Most of our version of Steampunk is seen in the costumes, props, gadgets and sets.  
So how is your show different from the traditional Dickens' Scrooge
-being-visited-by-ghosts version?
First, we are true to Dickens' original text, although we've added some dialogue.  But Dickens intended this story to be scary and ghostly, and we've taken it a little bit further (in that direction) than your usual
Christmas Carol
.  The music has a really trans-Siberian orchestra sound to it.  It's very orchestral, and there is a synthetic sound to it.  And it's a cast of 40. 
Wow!  That's a huge cast for an off-Broadway show.
And each ghost has a very distinctive, new twist. 
Before the ghosts, don't you have a visit from Marley, Scrooge's old partner?
Marley is a little bit animalistic.  The ghost of Christmas past is a tough woman.  Normally, the ghost of Christmas present is played by a man, but we play her as a woman with a wonderful new twist.  The ghost of Christmas future is performed by seven dancers, and they have a sort of post-apocalyptic look to them. 
How about the songs.
Each song has a distinctive, different feel to it, although there's a thematic through line.  At the opening of the show there is a song called "No One," and we see Marley as he watches Scrooge visiting Marley's grave.  And we hear "No One" again at the end of the show, as Scrooge is visiting his own grave.  It pretty much says that nobody was there for him because he was such a louse of a guy. 
Will we see Bob Cratchett, who worked for Scrooge, and his crippled son, Tiny Tim?
Tiny Tim sings a beautiful song called "Because It's Christmas," and then Tiny Tim and Scrooge -- once he is redeemed -- sing a reprise of it at the end.  One of my favorite songs is "Chains," because Marley is always depicted with chains; and in the way we do it, it's actually a violent tango, and the dancers/singers all have their chains.  Another song is "I Can't Go Back."  Scrooge is visited by all these women who are not in his life anymore -- his younger sister, his old girlfriend -- and it's a whirlwind for him, because he's confronted with everyone he ever did wrong to in his past.  The ghost of Christmas future is a dance to a song called "Time." There's the physicalization of the horror Scrooge will face in the future if he doesn't change. 
It sounds exciting.  How about kids?
It's going to be wild, but kids under five shouldn't attend.  There's definitely some scary moments, and we might scare the grown-ups sometimes.  But everybody likes to be scared some times. 
The Beckett Theatre at Theatre Row, 410 W. 42nd St., (212) 239-6200. Dec. 8-23, Wed. - Sun., 8 p.m., mats., Sat., 2 p.m., Sun., 3 p.m.,  extra show, Dec. 20, 7 p.m., $25.  90 minutes, no intermission. Tickets here.