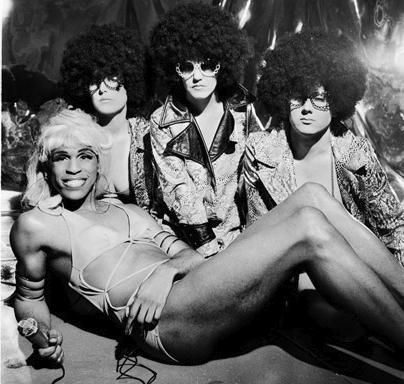 Vaginal Davis
is an outrageous, outspoken, international underground star.  She is a performance artist, writer, film curator and cultural raconteur. Born in L.A., presently living in Berlin, she is here to do a show at
PS 122
, as the 2009 winner of the treasured
Ethyl Eichelberger Award
.  Since she is such a marvelous conversationalist, and seems to have met and/or worked with a number of people in fashion, film, theater, music and art, it seems only genius that she would stage a piece that resembles a '70's TV talk show. Some of her rotating guests will be
Annie Sprinkle
, filmmaker
Bruce La Bruce
,
Justin Bond
and
Kembra Pfahler
of
The Voluptuous Horror of Karen Black
.  Acting as "Guest McMahons" will be downtown legends
Carmelita Tropicana
and
Jennifer Miller
of
Circus Amok
.  I interviewed Vaginal via e-mail. 
Hi Vaginal.  How did this show come about? What inspired you to do it?
I grew up in the 1970s, poor, and in South Central Los Angeles, and was always enamored by these TV talk shows starring former big band singers from the 1940s like Merv Griffin, Mike Douglas and lesbian icon Miss Dinah Shore. I remember connecting the dots upon seeing Merv Griffin in a small role in the 1953 Kathryn Grayson film,
So This Is Love
.  I could tell young Merv had some major sugar in his tank, if you get my drift...  On his program he would fawn shamelessly over the latest hot male ingénue or muscle beefcake TV star, in between interviews with writers, intellectuals and even evangelists like the late faith-through-money guru Rev. Ike.  Also Dinah Shore, who was known in the black community as being mulatto. On the
Dinah! Show
she would always sing and it was very apparent she had lost her voice, but it was very intriguing how she would massacre whatever the current pop hits were at that time, singing them in a quasi big band style, going in and out of key and pitch. 
What will the audience see and hear in the show?
Even as a child I never watched TV just for pure entertainment purposes, I was always dissecting the showbiz clichés and whatnot.  I wanted to be a performer, but instinctively knew that working in the mainstream corporate entertainment complex wasn't my thing. Which brings me to this new performance piece, which is not only just evoking the chat show format, but it seems like a natural and organic way to celebrate all the various talented individuals I know and love, who live and work in New York and elsewhere.  Like the chat shows of yore I will have guests who are well known, and some who aren't, representing all the many disciplines my career as an artist criss crosses.  Already confirmed guests include walking encyclopedia Billy Miller, the editor of
Straight to Hell
Magazine; Dr. Jose Munoz, the director of the Performance Studies Dept of NYU; the youngest of the Warhol superstars and mother of pop star Beck, Bibbe Hansen; influential fashion forward designer Rick Owens and his muse, Michele Lamy.  Plus many other surprise live and Skype guests from around the world. 
What will Carmelita and Jennifer be doing?
Downtown legendinas Carmelita Tropicana and Jennifer Miller of Circus Amok will act as alternating co-hosts.  Being that I am a female centered performer, the feminine in all its many facets will be prominent within the confines of the piece. I am known as a drag queen, though I think of my self as intersexed in that I am fortunate to possess both male and female genitalia. 
Anything else you'd like to add?
As the first non New Yorker to win the Ethyl Eichelberger Award, it is quite an honor to receive a prize named after a great artist, awarded from a community of artists. Considering that I have been around for a long time, I have kept a very low profile.  People have heard of my name somewhat, but don't really know what it is that I do.  Since I am still quite underground, I have nothing to lose, so I can do and say what I please.  In fact, I daily chant the mantra, "I am black, I am a big beautiful woman and I can do whatever I want." 
P.S. 122, 150 First Ave., (212) 477-5288. May 15- 27. Wed.-Sat., 8 p.m.; Sun., 6 p.m.; late shows, Sat., May 22 & Thurs., May 27., 10 p.m. $18.