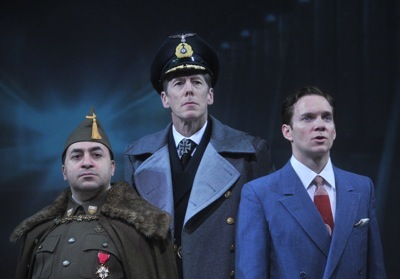 Spy Garbo
is a new World War II spy-adventure play by
Sheila Schwartz
, directed by
Kevin Cunningham
and staged at
3LD Art & Technology Center
; where it is sure to get a spectacular multi-media production, utilizing their 130-foot curved HD screen and full-stage holographic video projection system.  Downtown stalwart Steven Rattazzi plays Spanish dictator Francisco Franco, Chad Hoeppner plays British turncoat spy Kim Philby and Steven Hauck plays Hitler's personal spy, William Canaris.  I spoke with playwright Schwartz, who is a World War II scholar and a fan of black and white films of that era.  She has great vitality, speaks fast and was a lot of fun to talk to. 
Hi Sheila.  First, can I ask you if there ever was spy named Garbo?
Yes, Garbo was a code name.  He was the most perfect spy ever.  His identity and exploits were recently revealed.  He was a real double agent.  That's the story here: doubling.  Everyone in the play is two things and can be seen in more than one way. 
I've always been interested in the history and the movies about that time.
But it's not a history lesson, and it's not a research program.  Our story fuses state of the art digital narration and high definition images with movies and an old-fashioned proper play; live on stage about three historical characters you (maybe) never heard of. 
We're fusing film and theater here.  The show has elements of a mystery, a spy thriller, a war tale, told on stage with film.  This is a theatrical ride.  The fascist, communist and nazi are competing to star in history's movie.  And the question is, who's the hero? Who's the villain?  We think we know going in, but then 75 minutes go by, and it turns out it was more complicated than that. Each one is demonstrating why he is a hero; but we know them as villains. At the end, we will have the final say. Meanwhile, you are going to see a barrage of newsreels and film images.  The theater is peopled with virtual and actual characters. 
Tell me about the characters.
Wilhem Canaris was the head of Hitler's military.  He was an arch-rival of the Gestapo.  We never heard of him.  Canaris betrayed Hitler to Churchill.  Philby betrayed Churchill to Stalin; and Franco took no sides, he took both sides.  So who's the villain, and who's the hero? 
What about spy Garbo?
A fourth virtual character is spy Garbo.  He was a Spaniard.  All of the three main characters had a connection to spy Garbo.  He was a real person and the perfect spy.  He was perfect because he never got caught, he never killed anybody, he never gave up his family or friends. And he got paid by both sides, he got medals from both sides; and he got away free. 
What's it like working at 3LD?
Orson Welles, eat your heart out.  Every day I come here and Kevin Cunningham has gotten more great people to work on it.  I'm in heaven here.  When you come to see the show, come up and say hello.  I'll be the one with the big smile on my face. 
3LD Art & Technology Center, 80 Greenwich St., (212) 352-3101. Ppreviews Mar. 1, opens Mar. 6-Apr. 10, Tues.-Sat., 8 p.m., Sun., 3 p.m., $30/$40.