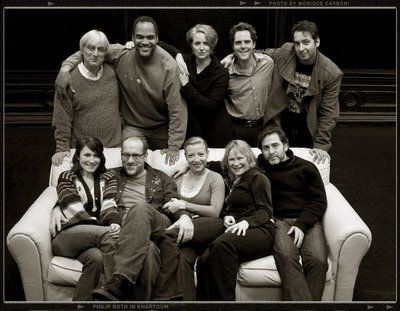 LAByritnh Theater Company has been successfully encouraging younger playwrights and attracting younger audiences with their Public LAB program, now in its second season at The Public Theater. The scripts are appealing to newer theatergoers and the admission is only $10. David Bar Katz's two-act play, Philip Roth in Khartoum, featuring a cast of eight, promises to be well-attended. It's about a cocktail party wherein four young couples play Truth Or Dare, and it's recommended for those 18 and over only, due to "nudity, profanity and raunch." That's a nice trio of adjectives to attract the theater-curious. I recently spoke with the gregarious playwright.

Hi David. Can you explain the title for me?
No, it's a surprise part of the show. Let's just say Philip Roth is a prominent presence in this show, as is the Sudan.

OK, then tell me what it's about.
It's about married people in their late 30s, early 40s. Each generation finds their expression of where they're at. In speaking of my college friends, we're married people with children. Some people see themselves as they are now, and others see themselves as they were in different ages in their life, 13, 20, etc. In this play, I'm trying to get at this age group, late 30s, early 40s, and the collision between their childish selves and their adult selves.

Let's talk about the action in the play.
The main action revolves around the playing of the game Truth Or Dare.

Is that why the play's recommended for those 18 and older?
The language and the actions are pretty explicit.

How explicit?
About as explicit as you can get.

Can you give us an example?
Well, in the Truth segment, one person asks, "What's the most bizarre sexual act that you've ever done?" And that's the Truth part. But people who are tough go for the Dare questions.
I get you.
So you're seeing people do some things that we all want to do, but we don't want people to see or know we do these things. So Truth Or Dare provides the excuse for this behavior. It gives it a framework that makes it OK.

How did the play come about?
It's sort of based on a group of guys I have coffee with every morning. We drop off our kids at school and have coffee later. That's the starting place for the writing of the play, and the play starts off that way too.

So the drop-off dads have coffee in the first scene, and then there's the party and their four wives join in?
Right.

I am not missing this.

The Public Theater, 425 Lafayette St., (212) 967-7555. Dec. 4-20. $10.