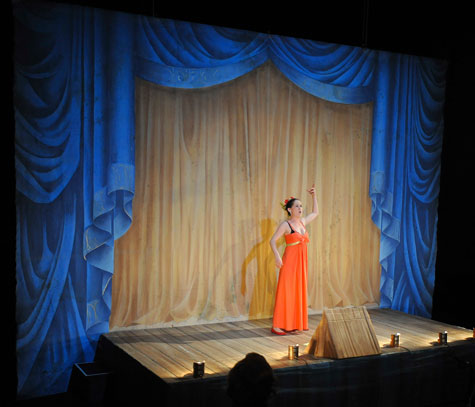 The Nature Theater of Oklahoma, co-directed by Pavol Liska and Kelly Copper, makes plays out of telephone calls. For their wondrous 2008 piece, No Dice, Liska phoned actors, relatives and friends and asked them to tell him a story. The conversations were taped and edited and then transmitted to the actors while on stage. In March's Rambo Solo, one actor recounted, and acted out, First Blood, the novel and movie from which Sylvester's Stallone's John J. Rambo character was born. For the avant troupe's new production of Romeo and Juliet, debuting at the Kitchen Dec. 17, three actors, Anne Gridley, Robert M. Johanson and Elizabeth Conner, relay others' concepts of the love story. I spoke with Liska and Cooper from Berlin about the upcoming production.

TOM MURRIN: Hi Pavol, hi Kelly. Will Romeo and Juliet have the same concept as No Dice? Will the actors be wired, so that the text they speak is being transmitted electronically to them as they speak and act?
KELLY COPPER: Yes, as with Rambo Solo and No Dice, all of the text was created by telephone conversation.
TM: I see one of the conversations was with Linda Copper. Is that a sister?
KC: No, it's my mother. And Teresa Gridley is Anne's mother.
TM: So the actors will be re-enacting the various versions of the Romeo and Juliet story. How is this going to unfold?
KC: A lot of the project centers on the audience's expectation of what they will see if they came to see a show of Romeo and Juliet. We don't want to give them a reason to think of anything particular. We want to give them no idea of what they might see.
PAVOL LISKA: Yes, exactly. Because that is, in a way, our subject matter: what the audience brings to it.
TM: What will we see then?
KC: This show comes after No Dice, which came from Pavol calling people and asking them to tell him a story. And No Dice was four hours of us failing to tell a story, but, instead, talking about other things, like their lives, jobs, etcetera. Rambo Solo and Romeo and Juliet were created side-by-side. They're very different, but they came from a common ground, because they are two particular stories, that someone would know something about.
PL: It's in the collective consciousness.
KC: People get some incorrect versions of Romeo and Juliet, but we're not interested in if people can remember the plot and characters. We're interested in the creativity that ensues when people don't know the answer. They make up their own Romeo and Juliet. It's kind of an everyday creativity; how creative the human mind is.
PL: It's about how a simple question can stimulate the imagination, and it's about creativity and how it sometime works. What we want for the show is for people to expect their idea of Romeo and Juliet. Our job is to work with people's expectations.
KC: For us, I have to say, we're not that interested in the story of Romeo and Juliet. What we're trying to get to in our performance is why people gather in a room (to experience theater). And the story is an excuse. What we are really interested in, is what brings people together in a room. What do we really have to talk about? If theater is a social event, then the story is just an excuse to talk about things like love and death. It's an excuse to talk about things that are bigger.
The Kitchen, 512 W. 19th St., (212) 255-5793, x 11, Dec. 17-Jan. 16, Thurs.-Sat., Dec. 17-19, Tues.-Wed., Dec. 22-23, 29-30, Wed.-Sat., Jan. 6-9, Wed.-Sat., Jan. 13-16, all shows 8 P.M., $20.