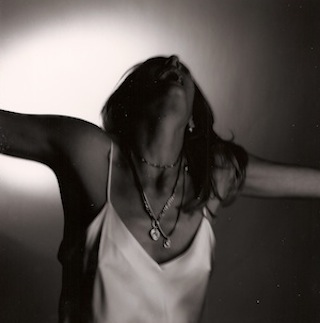 Here are four artists who often have been called "brilliant" in their fields:
Nora York
,  composer/singer/performer;
JoAnne Akalaitis
, director;
David Greenspan
, playwright/actor;
Kiki Smith
, artist/designer.  Who wouldn't want to see a show co-created by them?  Add to the mix: Puccini's great opera,
Tosca
, and the renowned French actress
Sarah Bernhardt
, who appeared in Sardou's play,
La Tosca
, for almost 30 years, and reportedly jumped from the balcony one time in the final scene, suffering an injury that may have contributed to the loss of her right leg. This is a 60-minute music-theater piece at the
Under The Radar Festival
that runs for only four performances.  I spoke with York. 
Hi Nora.  I have admired your work for years, but  I have always known you as a singer, doing your own songs as well as those of others.
In my work I have always done a lot of interpretive work as well as composition.  A lot of my interpretive work has often been layering and collaging different source materials.  For example, I'll take 16 bars of a Miles Davis piece and layer it with something I wrote, and also with some pop song from another era.  Four years ago I decided I wanted to do this with operatic music, which I have been interested in for 30 years; but I had never thought of opera as an opportunity to respond to it creatively, to pull it apart. 
Tell me about
Jump
.
Jump
is a musical response to Puccini's opera.  I've composed songs that are sung inside the arias, or in place of the arias.  So it's a form of adaptation; it is a riffing off the Puccini.  At the same time, I incorporated the material into the larger composition. 
How did the other people get involved?
I approached JoAnne Akalaitis four years ago to ask her if she would help me develop this music into a theater piece.  She enthusiastically agreed, and, at the time of our conversation, it was decided to include the character of Sarah Bernhardt. JoAnne was inspired by the character of Bernhardt, and she said, "I know exactly what they should be wearing."  After that conversation, I bumped into Kiki Smith, an old friend, and gave her a copy of the music.  She called me a few days later and said, "I can't stop listening to the music."  I asked her if she would like to work with me on a theater piece, and Kiki said, "I've never done that before, but I'd like to try."  Two years ago, JoAnne said, "We need a writer," and she suggested David Greenspan.  What David has done is adapt scenes from Sardou's play that weave in and out in this kaleidoscopic music theater collage.  Also, James Lawrence orchestrated and co-composed some of the music with me. 
So who will we see on stage?
A character called Nora, that's me; an actor, Joan Macintosh, playing Sarah Bernhardt; an actor, Bill Camp, playing Scarpia, the villain in Tosca; a bass opera singer, Andrew Nolan, he sings the role of Scarpia; Elliott Villar, an actor, he plays Cavaradossi, the hero of
Tosca
; and Andrew Drest, a tenor, he sings the role of Cavaradossi.  Then we have another actor, Jesse Lenat, who plays a number of other characters. 
That's a nice crowd on stage.  What's this about Sarah Bernhardt jumping off the balcony?  I know Tosca jumps to her death in the opera.
It happens in the play and in the opera and in her life.  The whole through-line of
Jump
, as I see it, is the jump.  What is the life of the artist?  What draws us to live performance?  What does it take to live this life?  What is the pleasure, the sacrifice and the joy it brings? 
Under The Radar Festival at The Public Theater, 425 Lafayette St., (212) 967-7555. Jan. 11-15. Tues., Jan. 11, 7:30 p.m.; Wed., Jan. 12, 7:30 p.m.; Fri., Jan. 14, 10 p.m.; Sat., Jan. 15, 2 p.m. $15. Tickets here.