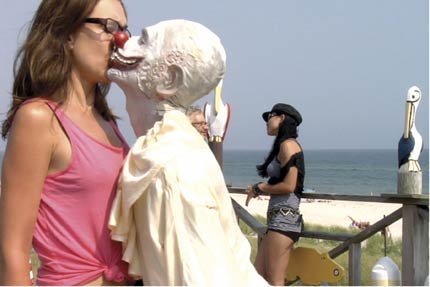 Veteran "collage artist" playwright Charles Mee, who was honored by having Signature Theater present four of his plays as their entire 2007-8 season, has one more trick up his sleeve this year -- Fire Island, a multi-dimensional beach party play: Fire Island. And he specifically chose 3-Legged Dog and the 3LD Art & Technology Center along with artistic director Kevin Cunnigham to make it happen. Over 100 people have worked on this project and 58 of them will be on stage. In 2007 Cunningham took 70 people, crew and actors, out to Cherry Grove, Fire Island, and shot the entire script in HD video. The resulting play is "an assemblage of scenes that involve all different aspects of love," says Cunningham, "dissolutions, beginnings, conflicts, different ages, different sexual preferences."
Mee wanted "to attempt to create a flow of images in video," and Cunningham used steadicams and other cameras to try to get a "grand master shot." When the audience walks into the theater, they will see, he says, "a huge HD panorama." 3LD's Studio A has a big elliptical screen that surrounds the 6,000 square foot area. Plus they have "2 Eyeliner panels," which is veritably 3-D. It all sounds quite amazing, and you may very well have to see it to believe it. Cunningham explains, "It's a 19th century stage trick, updated with digital risers and modern polymers -- it allows us to project images in the air." Mostly nowadays a magician would use this trick to make an elephant disappear, or a car manufacturer would use it to show their latest model in a mall. But Cunningham and his crew have been experimenting with this technology in different ways. The lighting director will make it appear as if these people on the beach have shadows! "We're in new territory here," he says, "and there's no stage, the actors are mixed in with the audience, and live performance erupts out of the middle of the audience." And if that isn't enough to get you there, he adds, "The piece is supposed to deteriorate into a party, so there will be beer coolers in the audience."
3LD Art & Technology Center, 80 Greenwich St. (212) 352-3101. Apr. 10-May 3. Thurs.-Sat., 8 p.m., doors open at 6 p.m. for a pre-show barbecue. $15, $30.