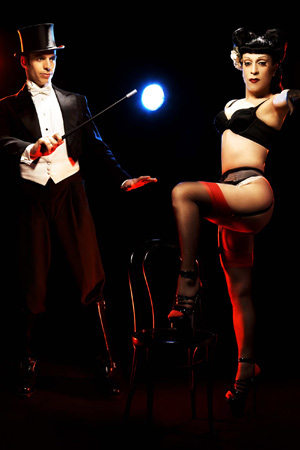 Arias With a Twist is the punningly inviting title of a brand new show, created by two modern masters of entertainment: puppeteer/director Basil Twist and singer/performer extraordinaire Joey Arias, both of whom are renowned and revered all over the globe. Ten years ago Twist debuted Symphonie Fantastique, a surreal puppet show in a tank of water, and since then he has worked all over, extending the limits of puppetry magic. Arias, a downtown drag diva that defined the genre, has spent the past six years as the emcee "Mistress of Seduction" in Cirque du Soleil's still-running Zumanity spectacle in Las Vegas. I spoke with Arias, a long-time friend, and a PAPER family member from the very beginning about his latest endeavor. (Note: Joey is a wonderfully effervescent personality, who talks very fast, and often uses his own style of grammar and sentence structure, and I apologize if I didn't accurately get everything he said.)
Tom Murrin: What crazy madness have you two creative geniuses concocted for us?
Joey Arias: Basil is the master of a-lot-going-on and the puppetry. He likes excess and magic, and we both merge together in fantasy.
TM: I'm still amazed that you worked six years straight in Vegas. What a gig!
JA: Yes, it's been six years since I've performed in NYC. This is my return to performing in New York. After Cirque, I wanted to upgrade, but I still want to be in the mix with everybody. Luckily I made a lot of money these past six years, so I don't have to work every night in every club in town.

TM: So what is the show going to be?
JA: Musically, it's going to be a journey from heavy metal to pop music from the '60s, '70s and 80's, the Beatles. I'm doing an homage to Klaus Nomi, an unreleased version of a song of his. And there's original music by the Propeller Heads. And of course, my classic Billy Holiday channeling. Pop-jazz-rock-spoken word.
TM: And?
JA: Visually, it's like you got sucked up into a flying saucer, and they threw you out, and it's the journey you have mentally and physically before you wind up back in Carnegie Hall.
TM: Joey, that answer was positively psychedelic.
JA: There's an acid trip in the show which we use to get crazy and free-form it.
TM: Are there any other performers?
JA: I'm the only person on stage. Everything else is engineered by puppets. Everyone on set is alive in the world of puppetry, à la Basil Twist's signature production.
TM: Isn't this the first time that you and Basil have worked together?
JA: Yes. Every time I've seen his work, I said, "I see myself in it." And when I came back to New York, he told me he had an idea, and he said, "Let's have fun together," and we are doing this.
TM: What's it like working with puppets on stage?
JA: Puppetry is really different. Things are made and they work, or they don't work, and things are getting crazier, and the producers are going crazy. There's all sizes of puppets, from four inches to a six feet.
TM: How would you describe the show?
JA: It's theater and cabaret, and there is a story line, told through dialogue, and a script and improv; and the songs tell the story too. It's not just a concert, but there will be a concert within the show, with my narrative orchestra. And, of course, I have sex on stage. As I always say, "From bathrooms to Broadway."
HERE Arts Center, 145 Sixth Ave., (212) 352-3101. Previews Jun. 12, opens Jun. 18. Weds. & Thurs., 9 p.m.; Fri. & Sat., 9 p.m. and 12 a.m.; Sun., 8 p.m. $35.
Photos by Steve Menendez
Check out Whitney Spaner's blurb from the magazine on Arias With a Twist here.