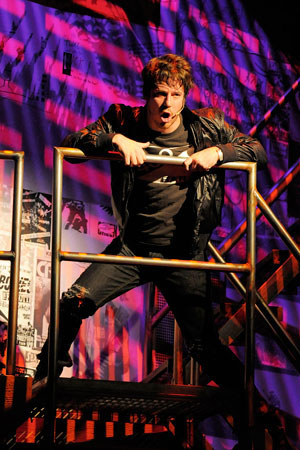 FENCES
This is the first of
August Wilson
's 10-play cycle,
The Pittsburgh Cycle
, which focused on the 20th Century African American experience.  It won the 1987 Pulitzer Prize and four Tony Awards. The action takes place over an eight-year period, 1957 to 1965. Denzel Washington plays a sanitation worker in Pittsburgh, who missed out on a baseball career because he was too old when Jackie Robinson came along, yet still faces racial issues at work.  His wife, played by the wonderful
Viola Davis
(
Doubt
), wants to know about a child he's fathered with another woman, and his teenage son is hoping for an athletic scholarship. 
Kenny Leon
, who has well-staged other Wilson plays, directs.
 
The Cort Theater, 138 W. 48th St., (212) 239-6200. Previews Apr. 14, opens Apr. 26.
AMERICAN IDIOT 
Every song from Green Day's 2004 double
Grammy Award
winning album (of the same name) will be heard, as well as a few from
21st Century Breakdown
, in this new rock opera musical.  The book was co-written by G.D.'s singer-guitarist
Billie Joe Armstrong
, and the excellent director,
Michael Mayer
(Tony Award winner for
Spring Awakening
).  Armstrong, of course, wrote all the lyrics for the songs, and the music is by the band. 
John Gallagher Jr.
(
Spring Awakening
),
Michael Esper
(pictured at left) and
Rebecca Naomi Jones
lead a cast of  24 in a post 9-11 take on young Americans trying to find some meaning to life. 
The St. James Theatre, 246 W. 44th St., (212) 239-6200. Previews Mar. 24, opens Apr. 20.
LEND ME A TENOR
This is a revival of Ken Ludwig's 1989 Tony and Drama Desk Award winning screwball comedy set in the 1930s, about an opera star who goes missing in Cleveland. Directed by the very likable Stanley Tucci, it stars Anthony LaPaglia as the Italian tenor, with Tony Shalhoub playing the local opera house's show presenter, who tries to smooth things over with the singer's wife and his passionate fans. Jan Maxwell and Brooke Adams should add some feminine loveliness and style to the farce.
 
Music Box Theatre, 239 W. 45th St., (212) 239-6200. Previews Mar. 12, opens Apr. 4.
 
LIPS TOGETHER, TEETH APART   
You expect that you are going to see a well-written, well-directed show when you see playwright Terrence McNally and director Joe Mantello's names on the  marquee. These tried and true theater artists invariably deliver. This one is a comedy. The recent defection of a principal actor (Megan Mulally) increases the challenge, but the remaining three actors are also known for their comic sensibility. That would be Patton Oswalt (My Weakness Is Strong), Lili Taylor (Six Feet Under) and David Wilson Barnes. McNally sets this four-handed comedy on the deck of an elegant beach house on Fire Island; a brother and sister and their respective spouses set off personal fireworks on the Fourth of July.
 
Roundabaout Theatre Company at the American Airlines Theater, 227 W. 42nd St., (212) 719-1300. Previews Apr. 9. Opens Apr. 29-June 27.
 
BELLONA  
Jay Scheib, one of our most theatrically inventive and truly powerful directors, has adapted Samuel R. Delany's epic sci-fi novel Dhalgren novel, mixing Delany's passages with original material, movement sequences and live video. Visual artist Carrie Ann Weems was involved in the collaboration. It's set in a doomed city that is forced to revisit its cataclysm again and again, with intertwining plot lines and shifting identities.  (In the Roman Pantheon, Bellona was known as "the Destroyer of Cities").  I saw a workshop of a portion of the play last December and was knocked out by the fierce energy of the talented cast of nine, which includes downtown favorites like April Sweeney and Mikeah Ernest Jennings.
 
The Kitchen, 512 W. 19th St., (212) 255-5793. Apr. 1-10.