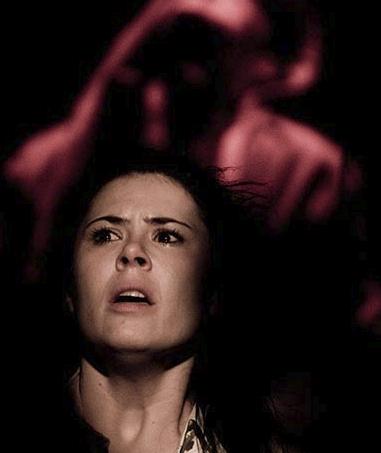 Here we have two very nice visitors from Canada who, it seems, intend to scare us, but will probably end up charming us as well. 
Daniel Arnold
and
Medina Hahn
have created and perform in a modern thriller of a play, directed by
Ron Jenkins
, which won five Toronto Now Awards in 2008, including Outstanding New Play, and was also voted Best Show of the Year in Vancouver, 2009.  I spoke with the pair from their home in Vancouver. 
Hi Daniel and Medina.  What are we going to see here?
DANIEL ARNOLD:
  A romantic thriller.  There's some bits of mystery to it, and there's lots of romance.  But it gets pretty creepy.  Basically the premise is that there is a girl who moves into a basement suite, and she starts to suffer from sleepwalking and night terrors.  At the same time she is falling for the charming young man living above her, Patrick, who is played by me.  And essentially she is tortured by her sleep and actually doesn't know if she can trust the guy she's falling for. 
MEDINA HAHN:
  Or whether she can trust her dreams, her subconscious.  She doesn't know what's the truth, what to believe. 
DA:
  The ultimate themes we're working with are trust - 
MA:
  And fear. 
DA:
  And it's that question we all have: How do we know whether we're just feeling fear - 
MA: 
Or if it's our intuition. 
You guys are pretty good at finishing each others' sentences.  So what happens, Daniel?
DA: 
Anna, the character Medina plays, is a modern dancer.  So in some part of the show she's creating the solo show she wants to be doing.  There are a few different timelines.  She is, at some points in the play, in a sleep lab being watched.  And the timeline will jump forward and back.  She is living in the apartment with Patrick, and it will also jump to a third timeline - 
MA:
  To a void land, where you are not sure where you are; but you discover it towards the end of the play.  Also, one of the big elements of the show is the theatricality of it.  Our director, Ron Jenkins, and our light designer, David Fraser; they've worked together to make these transitions seamless with lighting and stagecraft.  There are no blackouts.  You see all the transitions.  It's like a dream, and you go from one scene to the next.  It has the fluidity of a dream, which is part of the direction.  The thing about this show, you have to use your brain, the audience has to stay with us.  The have to pay attention.  If they sit back and drop out, they'll fall behind. 
Who is your audience?
MA: 
We found that the young generation, they like how fast it moves.  It switches timelines at a fast pace. And it's also theatrical at the same time. Our audience is a complex mix of people, all ages.  The young generation, who don't normally go to the theater, are excited by it.
LABA Theater @ The 14th St. Y, 344 E. 14th St., (212) 868-4444. Previews June 2, opens June 8-19. Wed.-Mon,, 8 p.m.; Sat. & Sun., 3 p.m.; Tickets are $18 & $25 and available here.

Photo by Stephanie Hull