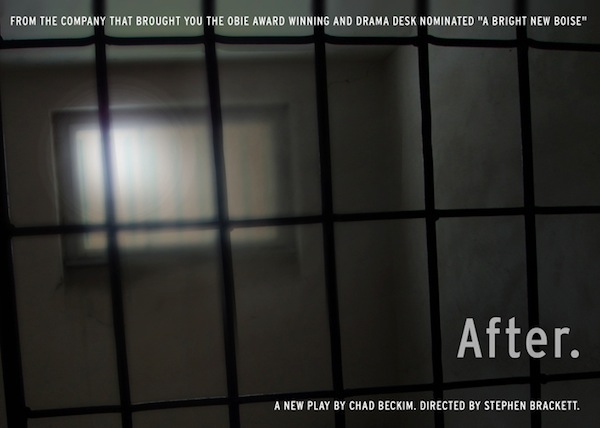 Partial Comfort
is a 10-year old company that has been putting up sharp, well-produced shows at the nicely-appointed
Wild Project
in the East Village.  They won an Obie last year for
A Bright New Boise
, and also staged Thomas Bradshaw's 2009 drama,
The Bereaved
. With
After
, playwright
Chad Beckim
, co-founder and artistic director of P.C., is premiering one of his own plays, with a cast of six, directed by Stephen Brockett.  I spoke with Beckim, a graduate of playwright Mac Wellman's Brooklyn College Program, that just seems to keep turning out young, bright powerful writers.  
Hi Chad.  What's your play about?
Basically, the play is about a guy who was exonerated by DNA evidence after being in jail for 17 years for rape and murder.  He was 17 at the time, and now he's 34.  The play starts on his first day of release.  The play has very little to do with prison; this is about what happens afterward. 
How did you come to write a play of this kind?
I did a lot of research. It was in 1993, I believe, that DNA evidence was used as a means to release prisoners.  Then along came the Innocence Project.  I started in 2007, and wrote the first 30 pages, but I couldn't make it click.  Then last year, our company goes on an annual retreat, and I did 50-60 pages in three days.  I write for actors, and all of the people in the cast are the ones I wrote the roles for. 
What would you call the main idea, or theme?
One of the things is the question: How do you start over? After you lose a job, or someone dies.  Here, the guy went in as a 17-year old kid, which is when you have no sense of self, no concept of who you are, no sense of sexuality. That's something you learn by trial and error, during mid to late high school and college.  So what happens when you miss all that stuff that makes up who you are?  And how do you get out in the world and navigate?  Back when he went in, there was no internet, no cell phones. 
OK. Tell me about the people.  Who's the guy?  What are we going to see him do?
The hero is Monte.  We're going to see him get his first job.  He lives with his little sister.  Both of his parents are deceased.  So we see that older brother/younger sister relationship.  We see him get his first kiss and start to fall I love.  Then we watch the bottom drop out of that. 
What else does he experience?
The basic inability to do day-to-day things, like get a toothbrush at a drugstore.  Imagine you've been in a place where you didn't have to make decisions for year; it was all done for you. 
Let's go through the cast of characters.
There's Monte, and Liz, his little sister.   Suzie is a clerk in the drugstore who helps him buy a toothbrush and other necessities, like deodorant.  Warren is a young Indian fellow who owns a doggy day care and he hires Monte.  In some prisons they have a Puppy Behind Bars Program., where trusted convicts are given a dog for a certain time per week, to teach them simple commands.  Monte has a special connection with these dogs.  Dogs brought into a prison are scared of their surroundings, and he's a natural with them; sort of a Dog Whisperer.  So he gets a job handling dogs on the outside. 
And then there's Chap.  He's one of the counselors in the prison. The first thing a prison counselor does is ask the convict to admit that he did something.  "I made a mistake, It was my fault, I'm sorry."  Chap tried to get Monte to say this for years, but he wouldn't admit to something he didn't do.  After Monte is out, Chap comes around to see how he's doing on a personal level. 
I don't want you to tell me how it ends, but you've got me rooting for this guy.
I have a tough time wrapping it up with "happily ever after." But, when we leave the play, we hope that this guy is going to be OK.  I think that's the best you can say. 
The Wild Project, 195 E. 3rd St., (212) 352-3101. Previews Sept. 7, opens Sept. 14-Oct. 8, Wed.-Sat. 8 p.m. Tickets are $18 and are available here.