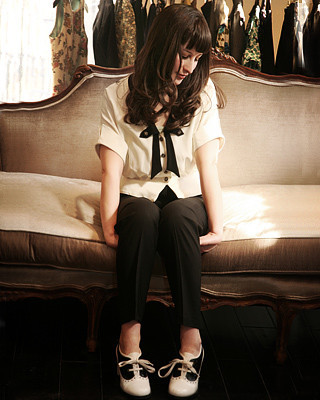 On account of the less-than-springy drizzly forecast on this humdrum Monday afternoon, we thought it would be most opportune to delve into the sunshiny world of my best friend Rachel Antonoff: the buoyant designer of her dashing eponymous label, Rachel Antonoff (formerly one half of the zany cult collection, Mooka Kinney) and brilliant writer (be sure to peruse her magical piece on boater hats in the newest issue of Lula). It was such a thrill to root out her best-loved spring picks around Gotham and an absolute honor to shoot her lovely Fall '09 lookbook alongside PAPER's own Sarah Sophie Flicker and Alia Shawkat (Maeby Fünke of Arrested Development fame –- who stars alongside William H. Macy and Cheryl Hines in Bart Got a Room which opened last weekend).
THE BASICS
Name: Rachel Antonoff
Age: 27
Location: New York
Chosen occupation: Clothing designer and freelance writer
Unchosen occupation: Oh so many things. A tap dancer.
Side-gig: I'm still not sure which one is the side-gig.
Best spring of my life: So hard to say, I love spring so much. Probably the spring I spent in Paris. That sounds a little cliché, but it really was magical.
RACHEL'S SPRING PICKS
Park for picnicking: La Plaza Garden on 9th Street and Ave. C! It's heavenly.
Massage: Haven (150 Mercer St.)
Haircut: Joey Silvestera at Blackstones (19 E. 7th St.)
Upcoming Event: Visiting my brother in Los Angeles!
Upcoming exhibition: The Butterfly Conservatory at The Museum of Natural History (Central Park West & 79th St.)
Outdoor café: I love the outdoor seating at Morandi (211 Waverly Pl.). I love how it takes up that whole little block.
Springtime cocktail: The Matilda from The Algonquin (59 W. 44th St.)!
Staycation hotel: The Algonquin or The Carlyle (35 E. 76th St.)
Spring flower: I love Delphium and Daffodils. I always want to drink out of them, like in Willy Wonka! Gardenia Organic on 526 Hudson is a phenomenal florist.
RACHEL'S SPRING ESSENTIALS
Jeans: CURRENT/ELLIOTT. Almost too soft.
Soap: Dove's cucumber soap
Shampoo: Fresh Soy Shampoo
Moisturizer: Fresh Sugar Lychee Body Lotion
Springtime Fragrance: I'm still in search of the perfect one! Suggestions?
Springtime Candle: Dyptique Pomander!
Stationery: Greenwich Letter Press (39 Christopher St.) has the loveliest, most special cards and stationary.
New episodes of: True Blood on HBO and Mad Men on AMC.
Spring escape: Woodstock, NY
Photo by Kelly Stuart via ELLE.com
**Previously featured on "Spring Cleaning With..."
Aya Kanai