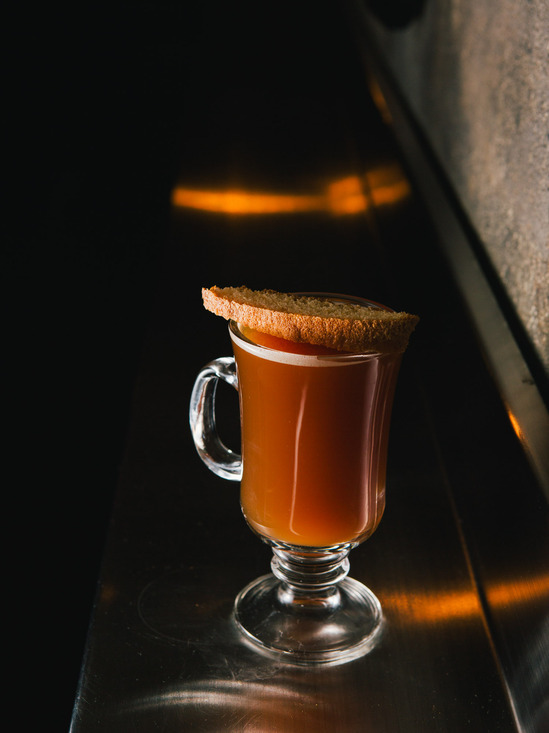 Photo by Alice Gao

A can of Libby's pumpkin pie purée is just as mighty an autumnal symbol as crunchy leaves and phallic grocery store gourds. While we're most accustomed to digging a fork into this orange, velvety mash in pie form, now that we've (hopefully) said goodbye to last week's aggressive brush with Indian summer we are ready to sip it in Micaela Piccolo's soothing, rustic cocktail.
Piccolo, bartender at upbeat Tribeca restaurant Distilled, "wanted to make something that reminded me of home, to feel cozy during this time of the year." Her affinity for, or "love affair" with pumpkin, along with her grandmother's knack for cranking out stellar apple cider inspired Piccolo to create this warm concoction marrying the two.
Boozy with Brugal 1888 rum and layered with pumpkin pie spice -- she also adds a dash of earthy nutmeg -- it's a thick, comforting drink that conjures modern-day fireside chats. "The only thing that should water down the cider," she says, "is rum."
Now that we can soon hide behind fuzzy sweaters, don't shun the complementary dollop of house-made Madagascar vanilla bean whipped cream.
Recipe
2 oz. Brugal 1888 rum
*Spiced pumpkin cider
In a coffee mug, add Brugal and spiced pumpkin cider. Mix and serve. Sprinkle cinnamon on top.
*To Make spiced pumpkin cider:
1 cup pumpkin purée (
not
pumpkin pie mix)
2 1/2 cups apple cider
1-1/2 teaspoons pumpkin pie spice
Cinnamon stick
In a large pot, mix together the pumpkin purée, apple cider, pumpkin pie spice and the cinnamon stick. Bring mixture to a boil then reduce heat to low and simmer for at least 20 minutes. (Note: this comes out thicker than traditional cider since it's made with pumpkin purée). For a thinner beverage, add more apple cider or water while you prepare it. Strain the mixture through a mesh strainer to remove clumps and cinnamon stick.