While my gay lungs are struggling to keep up with my brain processing the premise of a Spice Girls 20th Reunion Tour, I can manage to scream while typing out that the iconic girl group is MAYBE holding tryouts to replace SPORTY and POSH Spice(s).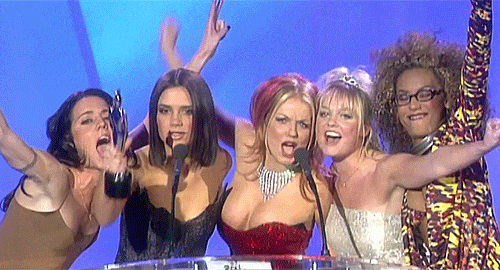 Sporty and Posh, aka Mel (C) and Victoria (Beckham) shattered all our basic bitch listicle hashtag nostalgia fat pulsing hearts, when they announced that they would not be reconvening with the other 3 of their transcendent quintet.
According to Life & Style (yes, I said that!) Mel B (Scary), Geri Halliwell (Ginger), and Emma Bunton (Baby) will fulfill their saccharine prophecy by replacing Posh and Sporty with stand-ins.
The article alleges that they were expecting Victoria to be too busy manning her incredibly successful fashion empire and sharpening her clavicle to join in on the fun, but "hit the roof" when the beloved jock warrior queen Mel backed out, as well.
The source says "The girls are going to be making a formal announcement about tryouts for their spots in the next few weeks."
It also added, "Posh and Sporty can be replaced," a statement that caused me to actually scream into my hands.
You cannot REPLACE Posh and Sporty Spice.
That's like saying you're going to replace someone with considerable vocal ability and someone with little to no vocal ability with people who will probably do a very good job filling in!!!!!!!!!!!!!!
I won't believe this is true until someone repeatedly dunks my head into a bathtub full of freezing water while blasting Spice Girls' "Stop" and yelling "IT'S TRUE!"